Update Wednesday, November 13, 2013 5 days after Super Typhoon Haiyan (Yolanda) 
made landfall in the Central Philippines
The response by the Church of the Nazarene to the central part of the Philippines was immediate because of the many churches in the hardest hit areas.  Within 24 hours, we had a rapid assessment team on the ground checking on the coastal town of Leyte and Tacloban City. Also each Pastor and District Superintendent that were able to, were out checking on their church members, families, and communities.
At this point we have been responding in three provinces simultaneously: Iloilo (in Panay District), Eastern Samar and Leyte (in Eastern Visayas District).  In Iloilo, the churches that still had buildings standing have been serving as evacuation centers providing food and water to the evacuees.  Regarding Eastern Samar and Leyte, the National Disaster and Risk Reduction Management Council reported that many cities and municipalities were "flattened to the ground."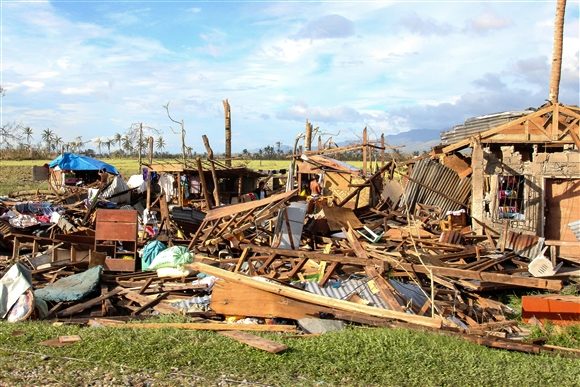 We praise God that among our Nazarene brothers and sisters, the number of reported casualties and injuries has been incredibly low compared to the overall loss of life in the reports we have received in the news.  However, there have been a few, and those that have survived have lost relatives and friends along with many of their homes and we grieve with them for their loss.  The report of our Assessment Team in the cities/towns that were visited, painted a very horrific scene of the effects of Typhoon Haiyan (Yolanda).
The last count of casualties in the city of Tacloban was aproximately 2,000 with many injuries reported also.  The four hospitals located in the city were severely damaged and no longer in operation.  Water became scarce as many deep wells were contaminated with salt water and debris.
We have been greatly encouraged by the overwhelming response from Nazarenes across the globe of prayer and reports of special offerings having been collected for disaster response, along with all of the volunteers who have repacked emergency relief goods and the list goes on.
The Church has been responding in the following four ways:
1)      Emergency Relief – Food packs that can feed a family of five for two days, consisting of rice, canned meats, noodles, coffee, sugar, powdered milk, and 6 liters of drinking water.
2)      WASH – Water, Sanitation and Hygiene.
3)      Shelter  -Tents and/or tarps.
4)      Children and Women Protection -Includes psychosocial intervention/trauma counseling for children.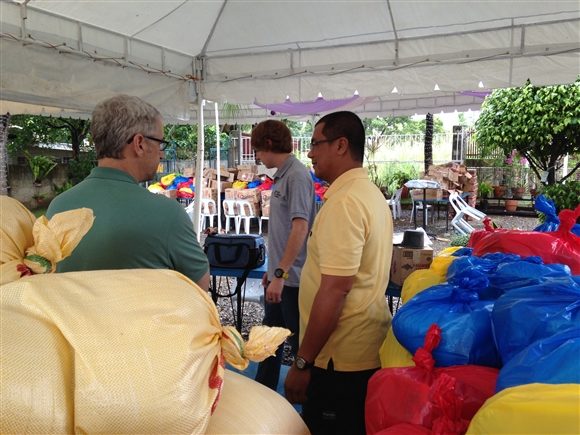 The Central Visayas District prepared food packs for 900 families in Ormoc City and transported them by boat.  The Iloilo District distributed food packs to 900 families.
350 Hygeine kits have been prepared for children and adults
1,000 bottles of WATERINE (a water disinfecting solution) has been purchased
 *************************************
There is still a need for additional food, drinking water, mats, blankets, and mosquito nets especially for family with small children, candles (as many places do not have electricity yet).
Additional Hygiene kits are needed for children and adults
Water purification tablets are still needed
In USA [button title='Donations from USA' type='secondary' size='small' link='https://secure2.convio.net/cn/site/Donation2;jsessionid=746FA214739EAE5178FDA0B98FD91740.app273b?df_id=18360&18360.donation=form1 ' target='_blank']Donate Now[/button]
 In Canada [button title='Donation from Outside USA and Canada' type='secondary' size='small' link='https://www.canadahelps.org/dn/5603c' target='_blank']Donate Now[/button]
 From Outside of the USA and Canada [button title='Donations from outside the USA and Canada' type='secondary' size='small' link='https://secure2.convio.net/cn/site/Donation2;jsessionid=746FA214739EAE5178FDA0B98FD91740.app273b?df_id=18360&18360.donation=form1′ target='_blank']Donate Now[/button]
Samaritan's Purse International has identified the Church of the Nazarene as their primary partner in the relief efforts, and we have submitted a proposal to them for latrines and water purification systems for Samar and Leyte.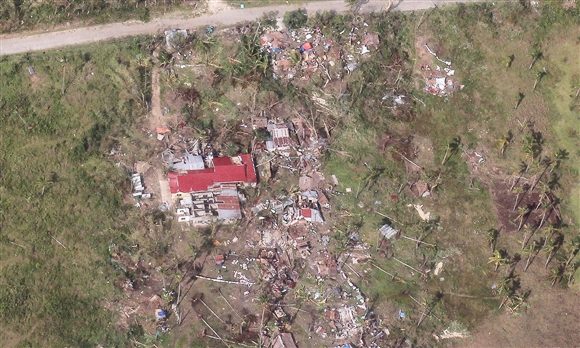 Additional volunteers needed to help local volunteers/church members in the affected places:
Priority 1 (Immediate need):  
Medical Teams/health workers (foreign & locals).
Stress debriefers (locals).
Point persons to coordinate logistics, communications, organizing & mobilizing volunteers, shipment, and relief distribution manager.
Skilled construction workers (at least in Ormoc City).
Priority 2 (needed next week if possible):  
Teachers, lay people and even senior college students with teaching/education background to conduct Psychosocial Intervention for children.
Priority 3 (can come in three weeks from now):
Skilled construction workers for the rest of Leyte and Samar (but depending on the availability of materials in the area).
Anyone who wants to be involved in clean-up and other work.
Staging area of relief and volunteers for Samar and Leyte is Cebu City.  Foreign volunteers will fly into Manila then to Cebu City airport or Iloilo.
We asked that volunteers would cover their travel expense to Leyte or Samar.  However, we can offer lodging (in tents), and provide food.  There are no hotels in the affected areas, so volunteers should be ready and willing to experience many discomforts.
If you have the specific skills listed above and would like to volunteer [button title='Volunteer / Inquiry Form' type='secondary' size='large' icon='mail' link='https://asiapacificnazarene.org/volunteer-now/' target='_blank']Click Here[/button]  fill out the form, and you will be contacted shortly.