Kudjip, Papua New Guinea:  One of the realities of serving in a remote, resource-challenged setting is getting necessary supplies when and where they are needed.
Dr. Mark Crouch, serving in Kudjip Nazarene Hospital just recently reported:
"While many in our region are struggling with the current restrictions due to the COVID-19 pandemic, we at Kudjip have faced a uniquely significant challenge. We continue to serve as the only hospital for nearly half a million people in desperate need of medical care. We have had to take extra precautions for our staff and patients to mitigate any potential Coronavirus outbreak.
We have seen our usual supply of volunteers dry up with travel restrictions. The country and government of Papua New Guinea have diverted many medical resources, already stretched thin, to COVID-19 activities. The missionaries here are facing probably the most difficult time that I have seen in my 6 1/2 years in this field."
Kudjip Nazarene Hospital was declared by the PNG Government as the Provincial Hospital for Jiwaka Province in 2017, and it still continues to serve this role during the pandemic. The hospital has screened over 1400 patients. Samples from these patients are sent to the nearest medical laboratory for COVID-19 testing, and results sent back were negative.
Aside from battling the COVID-19 pandemic, operations are still ongoing to which the limited volunteers and staff keep fighting and stretching the limited resources.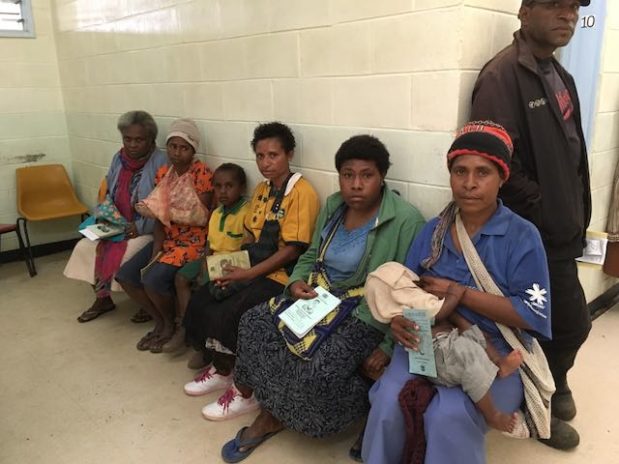 "Some of our lives are not back to normal as far as the [Kudjip Nazarene] hospital goes. We are currently working with a staff of 1 General Surgeon, 1 Surgical Trainee, 1 Pediatrician, and 3 Family Practice doctors. Our normal staffing of about 10 doctors is down to 6.  Quarantines, limited flights, travel restrictions, medical illnesses, waiting on paperwork, and more have been hurdles that have exacerbated our shortage of doctors. This has altered our ability to care for all we would normally care for. As the only hospital for a Province of around 400,000 people, when we have to limit services, lives are affected.
When I called our government Medical Supply company this week asking what they had as our stock on the shelves was getting lower and lower, I was told – Disposable Gloves – nil [zero] stock, syringes – nil stock, pain medicine for surgery – nil stock, certain antibiotics to treat infections – nil stock. I stopped asking any more. When I asked if they knew when they would be getting anything in – they said we don't. We live in a country that relies on other countries to supply us with the medicines and supplies we need to keep running – limited air travel is making the country's and thus our some of our supplies reach a level of critical shortage.
And yet despite these trials and hardships – there is some good in this world and it is worth fighting for. Kids with diarrhea and dehydration go home. Moms with difficult deliveries walk home with their newborn babies. Those diagnosed with TB are better in a few weeks and after 6 months of daily meds are cured. Patients with appendicitis or ruptured ectopics or bowel obstructions can have surgery and be cured. Patients with diseases while without a cure in our medical setting, can hear of the hope and love of Christ, and go home with peace.
If you would like to donate financially, please visit this link:
---
Donate to PNG Nazarene Hospital Greatest Need Fund
---
Let us continue to pray for Kudjip Nazarene Hospital (Nazarene Health Ministries) in Papua New Guinea. Pray for the Lord's provision as they demonstrate the healing power of Christ, both physical and spiritual.