Sampit, Indonesia: Nazarene Youth International in the Central Kalimantan District organized a youth camp with the focus to equip young people with leadership skills and disaster response at Sampit, Indonesia, from 6-8 July 2023. Around 55 young people across the Central Kalimantan District joined this camp.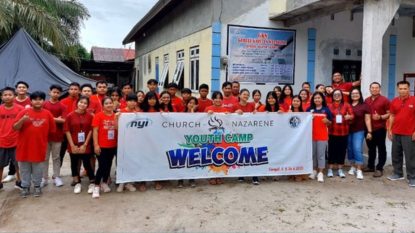 Dwi, the district NYI president and district NCM Coordinator spearheaded the event. Despite the challenging weather, they pushed through with the camp.
The campers were engaged in various workshops that taught them how to be involved in the various ministries in the local, district, and global church. They also learned about the different ministries of the Church of the Nazarene worldwide. Some campers were surprised to learn that the Church of the Nazarene is a global church family. These learnings encouraged them to dream big about their personal lives, churches, and ministries.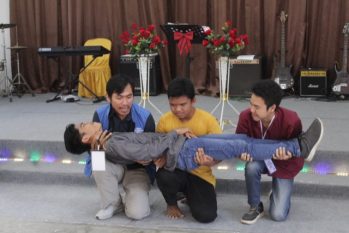 NCM also facilitated a workshop during the camp. They taught the campers how to prepare and respond during disasters. It was an interactive workshop where they created different scenarios about disasters like floods, earthquakes, accidents, etc. They taught them awareness and knowledge of what to do during disaster response. All of them had fun during the workshops.

By Wendi Pasaribu, Sealands Field Communication Coordinator