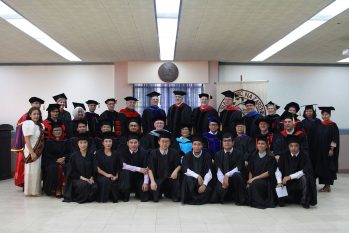 "From little things, big things grow". "See what God has done!" (Numbers 23:23 NIV)
The 34th Annual APNTS graduation and commencement was held on Saturday 4 May 2019 in the Cobb Worship Centre in the Nielson Centre for Evangelism and Education building at the heart of the campus of Asia-Pacific Nazarene Theological Seminary in Kaytikling, Taytay, Rizal, 12 miles east of the Manila City Hall. The 27 graduates, who are from 7 nations and 10 different denominations, take the number of graduates from the birth of APNTS in November 1983 to 561 people from 6 continents, 24 nations and several Creative Access Areas, including the Philippines, Republic of Korea, Myanmar, Papua New Guinea, India, USA, Japan, Indonesia, Samoa, Thailand, Australia, New Zealand, Peru, Russia, Zimbabwe, Bangladesh, Canada, Colombia, Ethiopia, Germany, Kenya, Pakistan, South Africa, and Taiwan. Among graduates, 282 grads (50.3%) are from the Philippines, and 70% are from the Church of the Nazarene. More than 1,350 people have enrolled at APNTS but not yet graduated, revealing that almost 1,900 people are former APNTS students. Currently, APNTS grads and alums serve the Lord effectively in more than 27 nations and several Creative Access Areas, and 13 have been promoted to glory.
Academic Dean and Professor of Theology Rev. Dr. Dick Eugenio, who has taught at APNTS since 2011, and graduated from APNTS himself in 2006 and 2008, reported: "This is our first year to graduate students from [places as far as] Germany and Kenya. Twelve of the 27 are Nazarenes… Three are candidates for Doctor of Philosophy, the largest batch we have had so far; one for the Graduate Diploma of Advanced Studies; nine for the Master of Divinity, three for the Master of Arts in Religious Education; one each for the Master of Science in Theology and Master of Arts in Christian Communication; four for the Graduate Diploma and two for the Graduate Certificate."
Dr. Theresa Roco Lua, General Secretary of the Asia Theological Association and Dean of the Asia Graduate School of Theology, was the commencement speaker, while Dr. Romerlito C. Macalinao, Dean of AGST Philippines, that co-authorises the Ph.D. degrees, presented those degrees with APNTS President Rev. Dr. Bruce Oldham.
During the service, Rev. Dr. Bruce Oldham, who has served as the 7th President of APNTS since September 2016, who will become the Lead Pastor of the Winter Haven First Church of the Nazarene in Florida in May, was honored for his contributions to APNTS during his 2.5 years of leadership. Dr. Keith Killen was announced as the Officer in Charge until a new president is elected.
The Cunningham APNTS Award of Academic Excellence, which had been created in 2004 to honour the outstanding ministry of founding faculty member and Distinguished Professor of the History of Christianity Dr. Floyd Cunningham, APNTS President Emeritus and former Academic Dean, by recognising those graduating summa cum laude or magna cum laude, was reintroduced. Nineteen graduates from 2008 through 2018 (including 14 women) and Jairo Rodriguez Bustamante, a 2019 M.Div. grad from Peru, were announced as awardees.
Atty. Rev. Kafoa Muaror, District Superintendent of the Fiji District and Chairman of the General Board, who is retiring as Chairman of the Board of Trustees of APNTS, was honored for his years of sacrificial service, as were Professors Dr. Peggy Oldham, Dr. Carol Bestre, and Dr. Clark Armstrong, who are transitioning to other ministries. Dr. Nativity Petallar was promoted to Professor of Christian Education.
– Submitted by Rev. Steve Walsh, President, APNTS Alumni Association