Panay, Philippines: Last 25-31 January 2023, six young people from different districts in the Philippines, together with Work and Witness Regional Coordinators Kevin and Janet Wilkins, went to Panay District for a short-term mission trip. The team helped furnish the Villa Church of the Nazarene's building.  The said church started initially as a home Bible study, which later led its members to gather all together and conduct a worship service 20 years ago.  It has been the only remaining Nazarene and evangelical church around its neighborhood in Brgy. Dulonan, Iloilo City, Philippines, since the Roman Catholic tradition has been ingrained in the families in the community.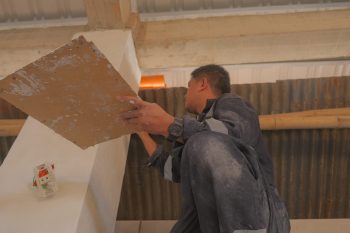 The participants were from the Negros District, Eastern Visayas District, Panay District, and Metro Manila District. The work of the team started by conducting the finishing touches on the concrete cemented pillars of the church. They enjoyed this trip because they learned new things and added skills in the building construction field, such as skim coating and how to use power tools.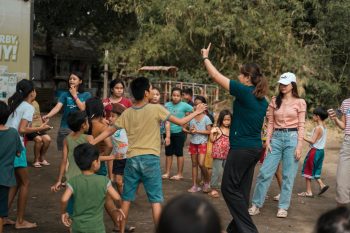 One of the highlights of this mission trip was immersing the Work & Witness team in the community, particularly with the kids within its neighborhood. There were around 40 children who attended the afternoon outreach ministry. They sang Christian action songs, got excited during fun playtime, listened intently to a Bible story from one of the team members, and were fed hot soup and bread.
I led the Praise and Worship for the first time in my whole life. Seeing how I was able to pull it off with just a little push and a little to no convincing, it opened up boundless possibilities in the ministry. I believe this small moment could serve as a testimony for others to Do and Go. Let this serve as an example of leadership. Maybe a little push is all we need. Backed up with lots of prayers. Hearing from all the delegates made me realize that those small things that I've done will never be considered small in The Lord's eyes.

Lendell john, Panay District
Moreover, the team had the chance to have fellowship with other NYI groups in the Panay District. They had games, discussed pursuing intimacy with God, and spent more time sharing their struggles and victories about their faith journey. After the joint NYI fellowship, Rev. Danny Sison from Pavia Church led the church for a revival service. Some invited members and pastors around the district also came and worshipped with the local Villa Church of the Nazarene members. He preached about the work of God in the people's lives for establishing God's kingdom.