NTC, Brisbane, Australia:  In today's post-modern world, how do we respond to Christ's command to, "Go and make disciples of all the nations?"  This last November, the Australia Northern Pacific District held their first ever "Power Up Day" to help answer this question.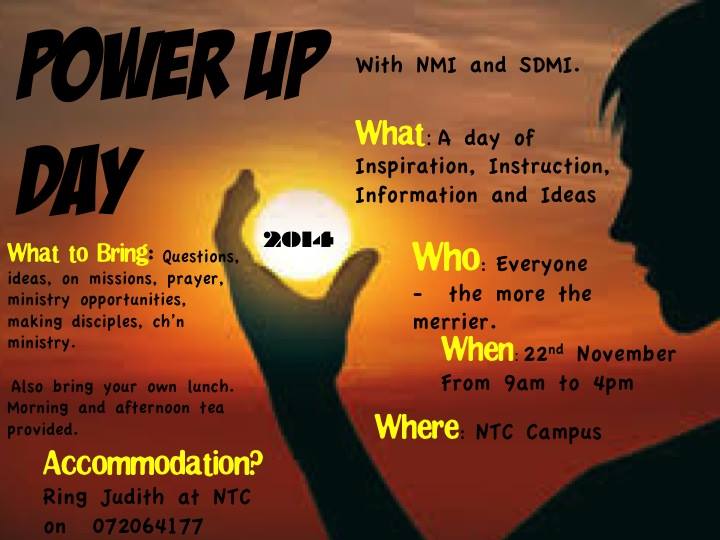 This Power Up Day, organized by the Sunday School and Discipleship Ministries and Nazarene Missions International Councils was held at Nazarene Theological College, Brisbane.
The day focused on fellowship, inspiration, practical skill sharing, ministry vision sharing and an "out-of-the-box" thinking time for the mission and the ministries of the Australian churches.
Workshops included "Nuts and Bolts of NMI Leadership," which was directed at new NMI Presidents,  Cross Cultural Ministries, Discipling and Mentoring, Prevailing Prayer and Building a Church. The workshops were led by various pastors, NMI leaders, missionaries, and representatives from sister organizations.
Specific information was provided on child sponsorship through NazCare (the Australian arm of Nazarene Compassionate Ministries).  Australian Nazarenes are currently sponsoring 90 children in various countries around the world.
The weekend started with a dinner Friday night, jointly hosted by NMI and SDMI, acknowledging pastors and leaders who had served throughout the year.
The devotions, music and plenary sessions were all lead by emerging leaders who started out with worship and group prayer. This set the tone for the enthusiastic participation that the event enjoyed. Feedback indicated that it was a huge success and that next year promises to make an even greater impact.
Making Christlike disciples in the nations, more than a slogan, it is a focused way of life for every Nazarene.  Could your local church have a Power Up Day for Missions?    Looks like Australia has provided a great model!
Board of General Superintendents Announces District Merger in Australia.
—— Submission: Pauline Sheppard and Steve Walsh