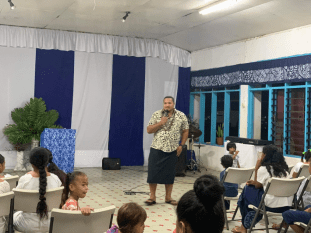 Samoa: Three Samoa Nazarene local churches joined together for a two-day youth rally on 10-11 March 2023. 74 young people participated in this event that aimed to provide these youths with empowerment, encouragement, and opportunity for community outreach.
The youth rally focused on Be (Evangelism), Do (Discipleship), and Go (Leadership Development), which are the core strategies of NYI. One highlight of the event is the worship services. During the first night, Samoan District Superintendent Rev. Peniperite Fakaua shared the message from Joshua 3:1-17. Rev. Fakaua shared, "Young people, consecrate yourself for God to use you as a leader now and in the future like Joshua. Whatever stage of life/age you are in when God calls you into His mission, you leave everything behind and follow Him. On the second worship service, Samoa District Secretary Rev. Talioe Meke shared the importance of leadership and following the leadership of Christ.
Another highlight of the youth rally was the opportunity for these young people to do an outreach program. They were divided into several groups and were sent out to the community. They visited the homes within the community and also encountered many people on the streets. When they returned after the outreach, the young people shared powerful testimonies from their experience and that nine new souls accepted Jesus into their lives.
This is just one of the many youth events happening throughout the Samoa District. Young people are being transformed and their lives are living testimonies that impact their community for the glory of God.