Negros, Philippines: The Negros District from the Philippines-Micronesia Field organized a conference entitled "Women of Worth" from 31 March to 1 April 2023. More than 50 women from different local churches in the district joined this event.
Rev. Inocencia Piliin – Field Women in Leadership Coordinator and Dr. Eileen Ruger – Asia-Pacific Regional Missiologist, were the guest speakers.
Rev. Inocencia Piliin shared that women should have the courage to move forward and serve beyond what is ordinary. She encouraged every woman at the conference to go beyond the ordinary. She shared that to go beyond is to be relentless in the mission God has called these ladies to do. She encouraged them to be unshakable with their values and unstoppable to pursue the vision patterned after our faith in Christ. Rev. Piliin challenged the women to remain faithful and committed to God as they fulfill God's entrusted work and be steadfast under all circumstances.
On the second day, Dr. Eileen Ruger shared about the love for missions and the importance of women in missions. She noted that women should not be inferior about their calling to missions but rather feel encouraged because when the Lord calls, He will surely provide whatever the needs will be.
Other highlights during the two-day gathering were:
Early morning devotions led by the small group leaders
Zumba dance exercise that reminded the women to care for their physical health
Fellowship with fellow women, encouraging one another as they share their experiences in ministry.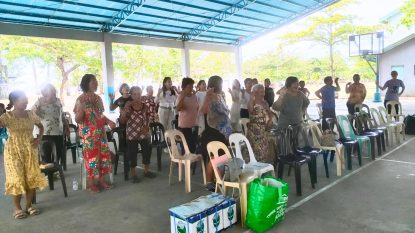 Women empowering women is intentionally the core message of the conference. The participants felt the movement of the Spirit in every part of the event. The women went home filled with hope and encouragement to be creative and resourceful and find strength in God as they continue to serve and represent Jesus in the various ministries that they are doing in their local churches and communities.
Contributed by:
Eve Bajado-Jagarap
Pastor's wife/Mom/Teacher