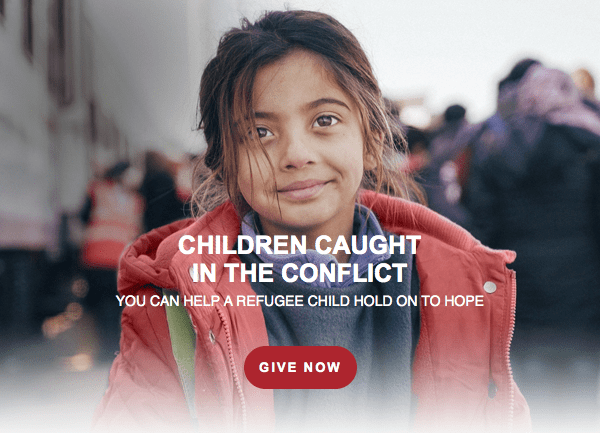 Nazarene Compassionate Ministries: Halil's* father was kidnapped in Syria. His mother fled to Lebanon to protect Halil and his brother. There, a Nazarene church reached out to his family and gave the boys a way to attend school. "I love my father, and I am missing him every day," Halil says. Still, he is working hard and says the Nazarene school gives him hope.
Halil has also found hope in his newfound faith. "I know Jesus, and I took Him as a personal savior," he says.
Since the war in Syria started five years ago, about 5 million children have been forced to flee their homes because of violence or persecution. Almost 1 million are now living as refugees in Lebanon and Jordan.
Yet, while they may be safe from war, their opportunities for the future are still extremely limited. Poverty, language barriers, and even fear are keeping refugee children from going to school. And without an education, the likelihood that a child will continue on a path of poverty is almost certain.
What if more children like Halil could experience hope in the midst of loss?
Last year, the NCM Christmas Project provided scholarships to enable refugee children to attend school. Halil is just one of the children holding on to hope thanks to the generosity of churches and individuals around the world.
But what if even more children could join them? What if even more children were able to look to the future?
This year, the NCM Christmas Project will provide scholarships and support so that even more displaced children can attend a Nazarene school. Your Christmas Project gift will provide safety and stability for children caught in the conflict.
Will you help a child hold on to hope?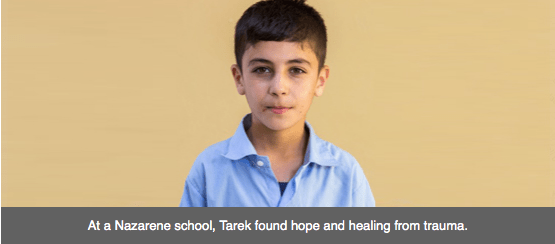 "Thanks for the Nazarene school in Amman for helping me to feel that I'm still a human being."
Those are the words of 11-year-old Tarek*, who went to Jordan with his family after they fled the war in Syria.
Remembering what it was like when he arrived, Tarek says, "I was completely destroyed from the inside out. I started to mumble and have some speech disorders, and that made me a good catch to the bullies in my neighborhood."
Today, after more than a year as a student at the nearby Nazarene school, Tarek is hopeful and more confident.
What if we could remind more children like Tarek that they are made in God's image?
Rasha* also came from Syria. When she arrived at a Nazarene school in Lebanon two years ago, she struggled academically and socially, but today she is at the top of her class.
"The Nazarene school gave me hope and confidence to fight for a better tomorrow, and this school helped me reshape my character," she says. "I believe that God is always with us."
What if we could remind more children like Rasha that God is with them? 
You can help answer these questions through a gift to the NCM Christmas Project.
Together, we are the church. Together, we can make a difference.
Grace and Peace,
Nell Becker Sweeden
International Director,
Nazarene Compassionate Ministries
(*Children's names are changed for their safety and protection.)