Asia-Pacific Region: Multiple significant earthquakes and subsequent aftershocks rocked the western side of the Asia-Pacific Ring of Fire Thursday, April 14th.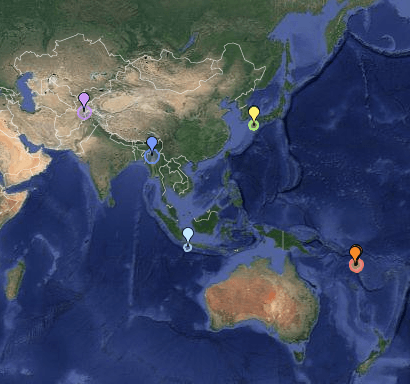 Vanuatu (6.4), Myanmar (6.9), and Japan (6.2) have been the most heavily affected in the past 24 hours. Here at the Nazarene World Mission Communications center in Manila, we are closely monitoring social media "safe checkins" and waiting for reports from our Nazarenes throughout the Region.
While no tsunami warnings have been released, there have been reports of moderate damage and injuries.
Vanuatu:
There were no immediate reports of damage or casualties from the earthquake, though shaking would have been felt across much of the nearby islands. No tsunami warnings were issued as earthquakes below magnitude 7.5 do not tend to generate tsunamis.
*** Update from the Potters – Missionaries to Vanuatu. [04/14/16]
"We didn't feel it at all! I just checked a couple earthquake sites and the epicenter was in the same location where quakes have been happening often. The largest today was 6.4. It was in the ocean and I've heard no reports of a tsunami. Generally, our quakes are so brief that even strong ones don't have time to do too much damage. Thanks for checking in on us!"
The epicenter was north of the island of Espirtu Santo which is quite a ways from us.
Myanmar:
The tremor was a deep 83.7 miles below the surface, according to the U.S. Geological Survey, with an epicenter located 46 miles southeast of Mawlaik and 246 miles north of the capital, Naypyidaw. Because the quake occurred in the sparsely populated jungle, casualties and damage were minimized, the Associated Press said. Southwest of Mandalay, Relief and Resettlement Department Director Sa Willy Frient told the AP nobody in the area was seriously injured, but nine pagodas were damaged. There are still no reports of fatalities as of this time.
Japan:
The magnitude-6.2 quake struck near Ueki, the U.S. Geological Survey said. Dozens of smaller aftershocks followed. Scientists from Japan's Meteorological Agency have warned "relatively strong" aftershocks are expected in the coming days which could cause landslides and more buildings to collapse. There has been significant damage and at least 9 fatalities reported as of this time.
Please keep all of those who have been affected by these earthquakes in your prayers.