Chiangmai, Thailand:  In 1984,  Samuel Yangmi recognized a real need in his area of Northern Thailand.  Tribal villages were located high in the northern mountains and it was often difficult for tribal children to attend Thai schools in order to obtain a quality education. 
It was a result of this vision and leading from God that Maetang Tribal Children's Home (MTCH)  (a tribal youth hostel) was established. Located in a valley and near a quality Thai elementary and high school, tribal youth would now have have the opportunity to go to school.  It would be the beginning of seed planting!
At about the same time as MTCH was established, Sam Yangmi had the privilege to officiate the wedding of a young couple in their village of Hueytad.  Because land was not available at the time for them to build their home in Hueytad, they and 16 families left and established the village of Pasak in 1985.
This young couple had a son I Ca (Isaac), who was born in Pasak and attended school there until grade 4.  His education would have come to an end had it not been for his family's acquaintance with Sam.  As a result, little I Ca left Pasak and became one of the students living at MTCH while he completed his schooling from grade 5 through high school…more seeds were being planted.
In 1995 the Pasak Church of the Nazarene was organized.  Today the Pasak village has more than 80 families, and the Pasak Church of the Nazarene is one of the strongest Nazarene churches on the Northern Thailand District. 
But what became of I Ca?    During grade 8, I Ca felt God's call to go to Bible College.  He would spend a total of eight years at MTCH and then upon graduating from high school, would leave to follow God's Call.  He was admitted to study at the Phayao Bible College located in Northern Thailand.  This is an Alliance school that is in high recommendation from N. Thai Christian families.  There I Ca studied for three years to receive an Associate Ministry diploma.  (After completing a year internship at a Church or Christian institution the student may then graduate with the Bachelor of Theology 'BTh' degree.)  I Ca chose to return to the ministry that had so impacted his life, completing his year internship at MTCH.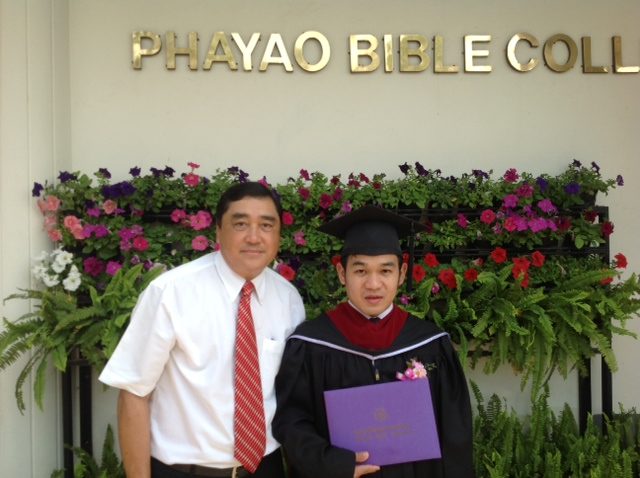 We all celebrated as on March 17, 2014, I Ca graduated with his BTh in Ministry from the Phayao Bible Seminary. He now plans to return to MTCH to fill the vacant Christian Education leadership role at the home. I Ca joins several others who have grown up at MTCH and who are now serving in ministry roles including Christian Education and Pastoral Ministry, across the Northern Thailand District.
"Now, as we mentor him and others like him, we are excited to begin seeing what God is going to be doing at the Maetang Tribal Children's Home," said Yangmi "To be able to witness one of our own MTCH youth graduate from Bible College was one of the highlights of this year for Lumae and myself.  This is what it's all about, giving them the opportunity to know Jesus and to see their commitment to Christ and to carry on Christ's commandment to 'go and make disciples in the nations' is the reason we spent most of our lives in SE Asia!  Pray for the MTCH as this place has been impacting hundreds of young people like I Ca from its founding year of 1984. I would say it is one of the successful NCM [Nazarene Compassionate Ministry] projects that still impacts SE Asia." 
Oh…and for seeds being planted…during his internship year (2012-13) I Ca ministered and 16 children were baptized.  This past month a Northern Thailand District Camp and Youth Training was held, in which I Ca and several others assisted.  There were 405 attendees and more than 75 youth.  I Ca led worship during the youth training time.  The seeds continue to grow and the harvest is coming!
Thank you for your prayers and partnership with the Maetang Tribal Children's Home.  This project has been funded through the partnership of Nazarene Compassionate Ministries, the World Evangelism Fund, and personal deputation funds from Sam Yangmi.
As part of the Church of the Nazarene, you are making a tremendous impact in the lives of many across the Asia-Pacific Region and around the world.  THANK YOU!
Click here for a video about the life of Belinda Alder, a young Nazarene Missionary who spent her final years making a tremendous impact at MTCH.
— Contributors Sam Yangmi Lisa Lehman – SE Asia Field Communications