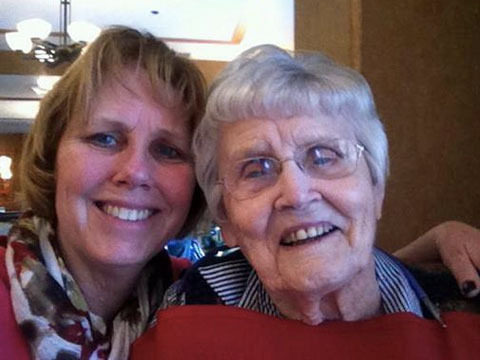 Global Ministry Center Tuesday, July 9, 2013
Retired Nazarene missionary Virginia G. (Hubbard) Helling passed away on June 27. She was 92.
She was born to John and Rosa Hubbard on August 12, 1920, in South Dakota. One of five children, she attended a one-room schoolhouse. While in high school, she met her husband, Hubert Helling. The two married in 1941 and graduated from Northwest Nazarene College (now University) in 1944.
From 1945 to 1952, the couple pastored in Oregon and Idaho. While in Oregon, Hubert felt a call to missions — the same call Virginia felt at age 13 — so the Hellings moved to Japan with their three children in 1952. The couple's youngest daughter was born in Japan.Virginia taught English classes at various universities, gave Western cooking lessons in her home, and led Bible studies."They touched the lives of many people, including my parents, my siblings, and me," said Verne Ward, Global Mission director for the Church of the Nazarene. "When we were young they were instrumental in encouraging faith in our family.
"Global Mission honors Hubert and Virginia today," Ward said. "We wish to recognize their 33 years of mission service in the country of Japan and how they impacted lives for Christ in so many other ways. There are more 'Ward families' around the world that received the message of forgiveness and a full life in Christ through the ministry of Hubert and Virginia. I have met many of these people in my ministry in Japan. We look forward to knowing the total count when we are all in the presence of God."
After 33 years as missionaries, Virginia and Hubert moved to Seattle, Washington, where they worked with Asian refugees. The Hellings later moved to Boise, Idaho, and travelled the world.
Hubert passed away in 2010. Virginia is survived by her sister, Maxine Huling of Nampa; her children: Denise of Seattle, Doug and Gerry (Barb) both of Boise, Christy (Ronn) Johnson of San Diego; six grandchildren and two great grandchildren, Renee' Warner, Richard Kelley, Ian Helling, John Helling, Rachell (Craig) Buell, Ross Johnson, Meagan Warner, and Eric Warner; and by multiple nieces and nephews.
A memorial service was held July 5 at Nampa First Church of the Nazarene.
To share a memory of Virginia or to offer condolences to her family, visit alsipfuneralchapel.com.
—Church of the Nazarene Asia-Pacific Region