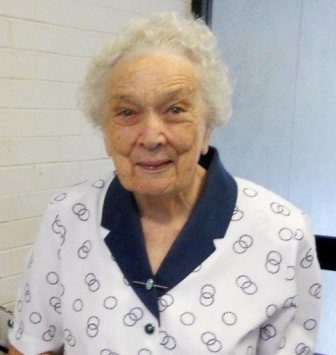 Pioneer Australian Nazarene Mrs. Marion (Scoular) Berg, a former District NMI President and the widow of the late Dr. AAE Berg, who is considered to be the founder of the Church of the Nazarene in Australia, passed on to her glorious reward on Thursday, January 23, 2014 in Brisbane, Australia.
Born the 25th of April 1923, in Scotland, Berg served beside her husband who was the District Superintendent of the Australia District of the Church of the Nazarene from 1948-1977, and the Australia Northern Pacific District from 1977-1979.
Berg is considered to have been the longest serving Australian Nazarene, having been a Nazarene for more than 65 years.  She has many relatives that are serving the Lord in various churches and districts throughout Australia.
Marion is the mother of Peter Berg, co-pastor of the Mt. Gravatt East Church of the Nazarene in Brisbane, and Marion Isobel Berg; aunt of Loy Hearn of NewStart River City church plant, Oriel Hill of Meadowlands church, and of the the late John Kerr. She was the great aunt of Charlton, Christine, and Jillian Kerr; Kammy Crowther, Roland Hearn, and Brad Hearn; Karen, Byron, and Garon Hill; and Anthony and Steve Higgs.
Her son Peter writes: "We thank the Lord that it was a peaceful transition and the she is now with Him."
Submissions:  Steve Walsh and NCN News.