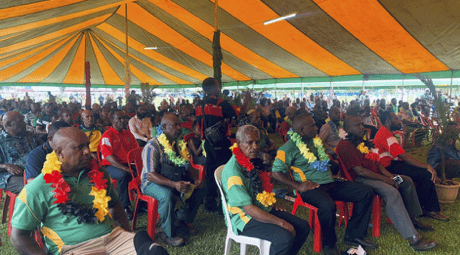 The Papua New Guinea Men's Ministry held its 2nd National Convention recently. This 3-day gathering was represented by hundreds of men from the local Nazarene churches in 14 districts across the country.
The theme of this year's convention is Time to Build and to Plant. It was taken from Jeremiah 1:10 "See, today I appoint you over nations and kingdoms to uproot and tear down, to destroy and overthrow, to build and to plant." The focus of the men's ministry is "to equip every man to take his rightful place as a leader of his family" was shared by North Coast District Men's Ministry President – Rev. Richard Kumie.
The participants were inspired, motivated, and challenged by the various workshops and activities, as well as messages from Melanesia/South Pacific Field Strategy Coordinator – Rev. Kafoa Muaror, Mt. Hagen District Superintendent – Rev. Peter Degene , and Hengali Church of the Nazarene Pastor – Rev. Peter Dama.
This event was made possible through the support of the national men's ministry leaders, field, and Melanesia Nazarene Bible College.