Taytay, Philippines: Philippines-Micronesia Field Holistic Child Development Ministry and Operation SAFE facilitated a two-day training on preparing, facilitating, and training church workers on using OPSAFE Camp as a mental health and psychosocial support resource before and after any disaster. 64 church and barangay workers participated in the training event.
Rev. Jonathan Wilson, the founder, and creator of OPSAFE CAMP and Operation Safe International Organization, led the training. Rev. Jackson Natividad and Ms. Salvi Joy Bringino also assisted in the training.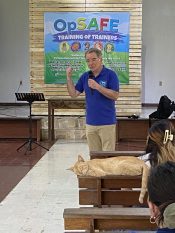 Faith-based organizations and churches intensively use the OPSAFE Camp worldwide to help children and youths cope with a disaster's psychosocial, mental, and traumatic effects. Using the OpSafe Camp tool before a catastrophe increases the children's resilience whenever traumatic incidents happen. The Church of the Nazarene Philippines, led by the Holistic Child Development Ministries, widely uses OPSAFE Camps for children after a disaster hits an area. It is also being used in Daily Vacations Bible Schools, Children and Youth Camps, or regular children's ministry activities in churches and even in schools.
There are almost 20,000 children and youth who participated in the OPSAFE Camps in the Philippines and various districts of the Church of the Nazarene like Bicol, Luzon, Metro Manila, Southern Tagalog, Eastern Visayas, East Mindanao, and West Mindanao Districts.
The Church of the Nazarene is a strong advocate and ministers to children during a disaster as their Response in the campaign for Child Protection in Emergencies.
Contributed by: Ptr. Jackson Natividad – Pastor & Holistic Child Development Coordinator Philippine-Micronesia Field Office