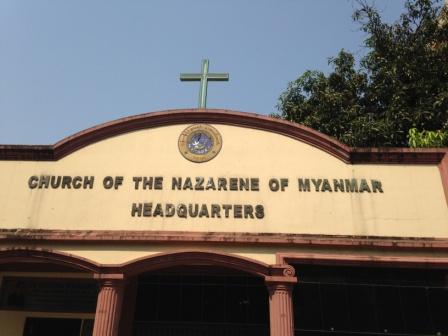 The Myanmar District of the Church of the Nazarene celebrated its 30th District Assembly over the weekend of March 15-17 in Kalaymyo (Kale), northeastern Myanmar, (formerly Burma), just a few miles from the border of India.
[map type='hybrid' address='kale, Myanmar' zoom='6′ align='center']
This country, located on the Southeast Asia Field, has only truly been open since the holding of a 2010 general election, during which time a civilian government was established.
How then has this district just finished celebrating their 30th anniversary?  God is on the move even when it seems the church can't!
In 1961, at 17 years old, a young man named Robin was invited by a friend to listen to a Methodist Evangelist who was speaking in Robin's home town.  Accepting Christ as his Savior, Robin found a man who loaned him a Bible for just 10 days.  In that time Robin read from Genesis to Revelation and knew that God was calling him to bring this message to Myanmar.
Robin's calling would take him to India, back to Myanmar, on to Pasadena where he attended Fuller University and finally back to Myanmar where now Dr. Robin Seia would work to establish the Church of the Nazarene in 1984!
This is a story of incredible faith, commitment, and impact through partnership with the World Evangelism Fund!  Keep you eye on the World Mission Communications News Channel for a special feature coming soon on the church in Myanmar.  You won't want to miss it!