Nueva Ecija, Philippines: NYI Metropolitan District held its annual youth camp on 19-22 July 2023 at Rizal, Nueva Ecija. Over 140 young people from local Nazarene churches in the district participated. This year's theme was "Unstoppable: Discovering Your Strength in God," grounded in Philippians 4:13.
The campers radiated a spirit of faith and unity. On the first day, everyone is excited to greet and meet everybody. The campers also made instant connections to their small groups during the week.
Some of the highlights of the camp were the small group devotions that primed their hearts and minds for each day's activities and lectures. Rev. Cryz Joshua Colorado, Pastor Habbed Graza, Bro Richard Ryan Mergal, Bro. Juniper Jonah, Villanueva, and Pastor Larry James Janayon have shared about Discovering Your Identity, Knowing Your Potential and Purpose, and Overcoming Obstacles As You Grow in Faith. These topics inspired the campers to tap into their God-given capabilities.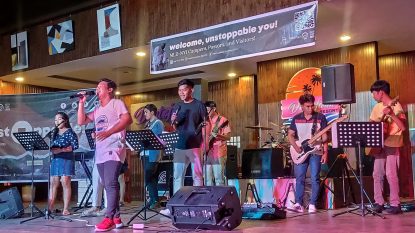 During the worship services, led by Southern Tagalog District Superintendent, Rev. Jun Macas, he presented challenges that strengthened the faith and commitment of the campers and how to conquer them as they journeyed in their faith.
Another important part of this camp is the spiritual activity "Life Line." During this activity, attendees symbolically navigated through different obstacles, mirroring their journey toward salvation. This further solidified their determination and commitment to overcoming life's challenges.
Other activities during the camp were the highly anticipated"Amazing Race" and the celebratory Banquet Night. The camp culminated with a communion service and the challenge to continue as unstoppable soldiers of God.
The Metropolitan Luzon District NYI Camp 2023 stood as a testament to the power of faith, growth, and unity. Attendees departed with hearts full of gratitude and a profound sense of purpose. As they returned to their local churches, they carried with them the unquenchable spirit of an unstoppable journey, poised to inspire and impact the world as true ambassadors of Christ. This transformative event became a beacon of empowerment, faith, and fellowship–leaving an unforgettable mark on participants.
By Rinalyn Dayrit