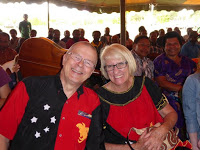 Andy and Judy Bennett, missionaries serving at Nazarene Hospital in Kudjip, Papua New Guinea for the last several years, were preparing to head back to the USA for their home assignment in March. Just weeks before the departure date, their recently renewed passports were stolen.  Knowing the date for their departure was close, they took it to the Lord in prayer and many across the world prayed with them.
See the original prayer request here.
They needed much more than just a simple replacement passport.  With Judy's citizenship being Canadian, not only did she need a new passport, but also a replacement for her lost green card.  And they both had to have valid PNG visas to travel legally.
But none of that was too difficult for our God. In just two days, they were able to get documentation of valid visas from immigration, with the help of a fellow Nazarene, and then get the replacement green card for Judy in the newly re-issued passports. After all of that, they still had time for a chance meeting and visit with the Ambassador for a few minutes before heading to the airport arriving two hours before the check in counter was open for their scheduled departure.
They made it home and as they look back, they can see God's fingerprints in each and every circumstance.
Nothing is too difficult for our God!  When we are in need and seek God's intervention leaving it in His hands, He responds!