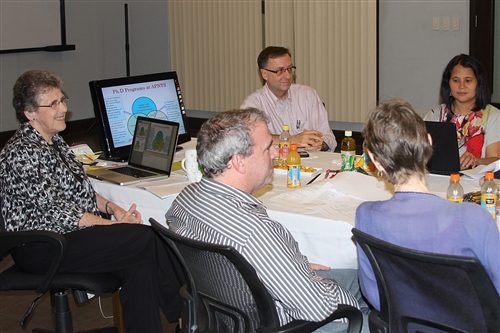 Manila, Philippines: A new cutting edge integrated Ph.D. program was the topic of a forum held Friday, October 19th, at Asia-Pacific Nazarene Theological Seminary (APNTS).  The Ph.D program under discussion is Transformational Development in Complex Communities.
Holistic Child Development, Transformational Learning and Transformational Development are three programs that are being discussed in relation to changing from an Education Doctorate Ed.D to a Ph. D.
One of the key components to the discussion were the core courses that were common to all and the courses that would need to be shared amongst the three programs.
Theresa Lua, the Dean of Asia Graduate School of Theology (AGST), which is a partnership of 7 Graduate Level Seminaries in the Philippines, was present along with the new Director of the program Dr. Catherine Stonehouse.
Dr. Fletcher Tink, Dr. Nativity Petallar, and Dr. Floyd Cunningham were also present for the discussion. Dr. Cunningham hopes to have final approval by the Board of APNTS by January 2014.