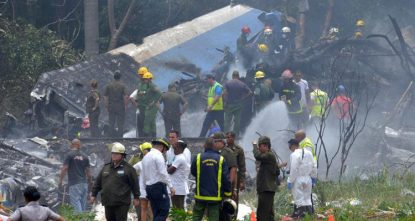 On 18 May, a Boeing 737 carrying over 110 people crashed in Cuba. Among those lost were ten Nazarene couples in leadership on the East Cuba District. As they were on the way home from a leadership retreat, their flight, Cubana Flight 972, crashed shortly after takeoff from Jose Marti International Airport in Havana.
Since last Friday, the global Church of the Nazarene has been united in prayer for the Nazarene church in Cuba and the Mesoamerica Region. "We grieve with the families of those who lost their loved ones," the Board of General Superintendents wrote in a statement released 21 May. "May the Lord carry the children of these mothers and fathers, surrounding them with His all-embracing peace and love that transcends our understanding."
As we on the Asia-Pacific Region join with our brothers and sisters around the world in prayer, please keep in mind those affected most by this tragedy:
The families of the more than 100 people who lost their lives in the crash.
The families of the ten couples of lost their lives, particularly the children who lost their parents in this tragedy.
The East Cuba District and District Superintendent Rev. Luis Batista, and Mesoamerica Regional Director Rev. Carlos Saenz and the Mesoamerica Region, as they navigate this time of grief.
For more news on this tragedy in Cuba, including the names of the victims, please visit NCN News.