South Korea: We are truly blessed to receive updates on how God is working in the lives of our fellow Nazarenes in Korea. Read how their faith in God is being strengthened as well as their relationships with each other.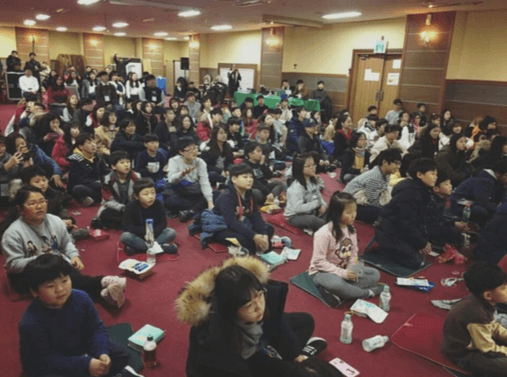 2017 started off well as 140 children of pastors from all over South Korea gathered together for the 12th Annual Pastor's Kids Retreat, held 14 -16 January 2017.
Among those who encouraged the kids and led them during the 3-day fellowship were Korea District Superintendent (DS) Young-su Kim and Taiwan DS Andrew Tang from Taiwan. The event was made even more special as the participants were given the opportunity to participate in the Korean Christian Broadcasting System.
During the closing service, the participants were able to share their God-given talents with each other. The life of a pastor's kid is no easy task, and now these children know that they are not alone.

A few days after the retreat, DS Tang, together with the Taiwan Nazarene Theological College (TNTC) Chairman of the Board, visited Korea Nazarene University (KNU) to meet with KNU President Dr. Im Seung-An. They are hoping to communicate with each other regularly, to further fortify the Church of the Nazarene's mission,"To Make Christlike Disciples in the Nations."
We are grateful to the Lord that He made this visit possible. Please continue to pray for TNTC and KNU, that this goal will be realized and that their connection rooted in serving God will continue to flourish.
-Submitted by: Mireu Kim/ Ingrid Kiper