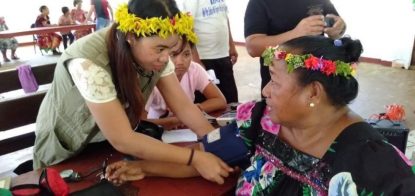 At the recent Micronesia District Assembly held at Guam First Church, Pastor Richard Sulatra of Chuuk shared about a new outreach of his church. Four members had gone to the nearby island of Fefan for a short "island hopping" holiday. They came back to Chuuk and encouraged other church members to return to Fefan. Pastor Richard Sulatra had a vision to reach out to the locals on the island through ministry.
On February 10, Pastor Richard gathered 18 Filipino church members and 4 local Chuukese from his church and teamed up with a Catholic church which provided the boat and gasoline to the island. They ministered by providing haircuts, massages, and testing blood pressure and blood sugar. They also reached out to children through story telling. The outreach was well received by the local people. A second outreach is planned for the second week of April when the church members will teach the local people how to do these skills themselves. The church will be collecting school supplies for the children.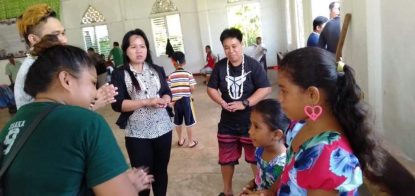 Life on these remote islands is not always easy. The most common sources of income are farming and fishing. The church in Chuuk hopes to grow this ministry by visiting other nearby islands, developing disciples, and encouraging revival among the believers there. They eventually hope to start new church plants. They want to invite non-believers and other organizations to join in the effort to meet the needs of these islands. Word has gotten out of their ministry and they have been asked to go to other islands.