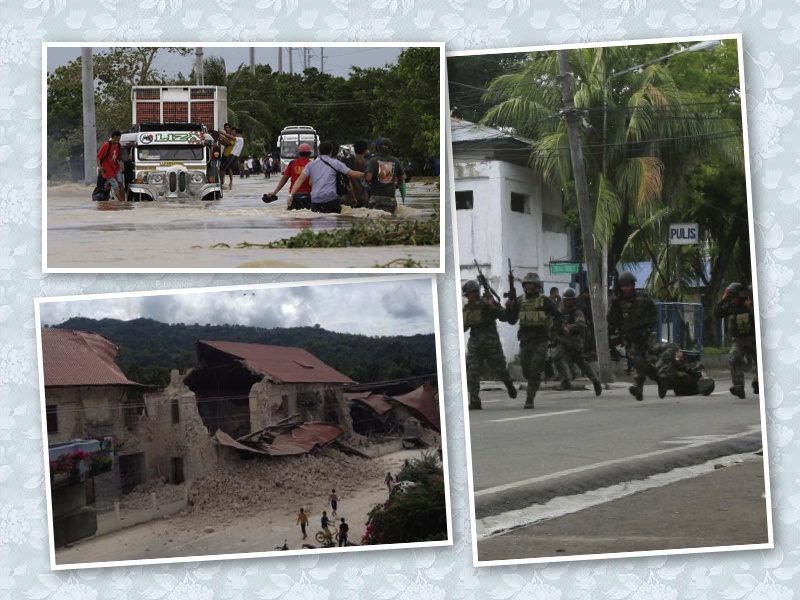 Philippines:  What happens when disaster strikes?  Nazarenes respond!  This has been the character of our church since its founding days.  We were born to be missional and being missional means putting actions to our words as we reach out and touch lives with the love and hope of our Lord and Saviour!
Nazarene Disaster Response Teams are currently on the ground in three areas of the Philippines in response to three separate tragedies.  All three of these stories have been covered individually, we want to bring you up-to-date as of October 20th, 2013.
Zamboanga City, Mindanao, Southern Philippines. (Armed Conflict since the first of September)
During the first part of September an armed conflict erupted in the Southern Philippines (Mindanao) City of Zamboanga.  The result was that in just a few days, thousands of families became "IDPs" or Internally Displaced Persons, with many thousands taking refuge in a local sports stadium (
see this link for the original story
).
The fighting has ended but the recovery is now beginning and will be ongoing for months and years to come.
We presently have 12 Nazarene Disaster Response Team members on the ground in Zamboanga City.
Team members are serving on two week rotations.
The teams are comprised of volunteers, pastors, laymen, and youth.
We continue to serve the IDPs who are currently seeking shelter and we are now the only group left in the stadium conducting stress debriefings and psychosocial interventions.  The Department of Health has asked us to expand our coverage to areas of the stadium beyond the originally assigned grand stands where 3,000 families were sheltering.
Our current involvement includes conducting stress debriefings and mental health assessments at the sports stadium and 4 other IDP camps.
We continue to partner with the the Christian Missionary Alliance church.  Our Nazarene Disaster Response team is providing the leadership for the joint venture.
This has been a tremendous opportunity for the Church of the Nazarene to demonstrate the tangible love of our Lord and Saviour and to re-establish the Church of the Nazarene in an area where we have not been for many years.
Typhoon Nari, October 12th, 2013, Central Luzon, Philippines.
Typhoon Nari (Santi) came ashore in the early morning hours of October 12th, damaging many homes and thousands of acres of agricultural land.  Nazarene Disaster Response teams from the local area Churches have been on scene providing assistance and rehabilitation (
see this link for the original story
).
Major provinces impacted were Nueva Ecija and Pampanga.
Nazarenes were hit hard with 11 of our families loosing their homes in the province of Nueva Ecija, and 2 families loosing their homes in Pampanga.
Nazarene Disaster Response teams are assisting those who have lost their homes, by providing food and temporary shelter.
Part of the NDR/NCM strategic plan is to assist those impacted by the typhoon through home rebuilding and the rehabilitation of agricultural grounds.  We will be providing seedlings (coffee and vegetables) to help these families rehabilitate their livelihoods.
Bohol Province earthquake, Tuesday morning, October 15th, 2013  Central Visayas region, Philippines
The death toll has now risen to more than 175 in the week after the deadly earthquake struck in the morning hours of October 15th.  Recovery is underway as rubble is moved and assessments are made (
see this link for the original story
).
Nazarene Disaster Response Assessment teams from Cebu City are currently on the ground in Bohol and have been there since the 17th of October.
Families from 2 of our Nazarene Churches in the cities of Sandingan and Baclayon have been hit especially hard.
50 Nazarene families have lost their homes, most of these were totally destroyed.  Those homes not completely destroyed will need major repair.
One of our pastors in the region had two children who were buried under the rubble but were later rescued and hospitalized.  They have now been released and we are praising God.  It is truly a miracle that none of our Nazarene members lost their lives.
The Philippine Field Office (PFO) is sending a representative to Bohol on Monday, October 21st, 2013, to assist with the provision of relief supplies purchased by Nazarene Compassionate Ministries.
David Harris, Asia-Pacific Regional Coordinator for Nazarene Compassionate Ministries will be arriving in Bohol on the 21st to work with the representative from the PFO.
Our Nazarene Disaster Response teams are once again conducting stress debriefings in addition to the provision of relief supplies (food and water)
We are planning to engage in providing shelter in the very near future.
Your continued prayers for our Nazarene families in the Philippines are so greatly appreciated.  For more information on how you could partner financially, please contact the Regional Communications and Partnerships Coordinator.