Central Philippines:  Nazarene Disaster Response  teams are in full swing across the Central Philippines as they conduct assessments and respond in the aftermath of Typhoon Hagupit.
While God truly answered prayer in weakening Super Typhoon Hagupit before it made landfall, it still came ashore as a very powerful Category 3 typhoon, packing winds in excess of 110 miles per hour.
According to a government report released December 8th, 10 lives were confirmed lost, 5 are still missing, and more than 71,000 homes were either significantly damaged or destroyed.  More than 678,000 people were still listed as in evacuation centers.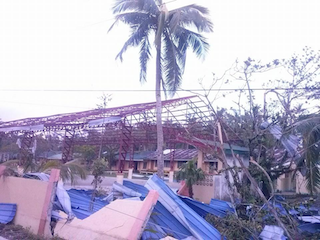 Despite the significant damage, we are praising God that the number of casualties was nowhere near the more than 7,000 lost last year in Super Typhoon Yolanda.
See the incredible stories of Super Typhoon Yolanda
Currently, NDR Teams are negotiating with the military for space available on their C-130s or Navy ships, for delivery of relief supplies directly to the most seriously impacted islands.  This includes Crisis Care Kits, food packs, hygiene kits, tarps, medicine, water filtration systems, and flash lights.
Here are bullet points from the most recent NDR situation update:
Get ATR Newsletter directly in Your Inbox
Eastern Visayas District:
Initial reports, 3 churches severely damaged in Samar: Cabalagnan, Magaan and Camada

Borongan City Church: Loss of roof on 2 rooms, church roof sustained significant damage.

Relief food packs, medicine, water filters, tarps and Crisis Care Kits have been distributed to affected churches.
Some areas in Eastern Samar and West Samar and Leyte are still manageable.
Panay District:
Food relief packs are ready to be distributed
Confirmed that on the Gigantes Islands, more than 1,000 people survived by taking refuge in caves.
Still waiting for reports from the mountain churches of Capiz, specifically: Quinabonglan and Aglimocon.
Generally most areas of Panay are safe and passable now.
Bicol District:
Food relief packs were distributed and more supplies to include medicine, Crisis Care Kits, and water are being planned.
3-5 Churches are asking for relief assistance.  These are in Sorsogon Province.
The initial assessment indicates that the rest of the churches on the district are safe and intact.
Nazarene Disaster Response, as an outreach of the local churches and districts, in conjunction with Nazarene Compassionate Ministries, continue to work together in developing strategies and making every attempt to provides relief to those most seriously impacted.
Please continue to pray for the leaders and volunteers on the ground, for their safety and wisdom during these response efforts.  Pray that the local communities will recognize the love of Christ as it is shared during these times of disaster.
If you would like to partner financially, you may give through to Nazarene Compassionate Ministries by following this link.