Papua New Guinea: The three Nazarene colleges in Papua New Guinea held their first combined graduation ceremony last 9 December 2022. This was a historic event for Melanesia Nazarene Bible College (MNBC), Melanesia Nazarene Teachers College (MNTC), and Nazarene College of Nursing (NCON). The ceremony was held at the Tuman Campus, where MNBC and MNTC are located.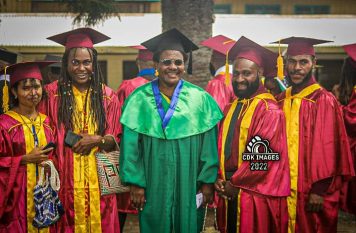 Two hundred and three students graduated, consisting of one hundred forty-nine teachers, thirty-seven nurses, and seventeen pastors. 112 are men, and 91 are women.
The celebration was attended by the Papua New Guinea Acting Secretary for Department of Higher Education, Research, Science and Technology.
Dr. Francis Hualupmomi as the commencement speaker, Field Strategy Coordinator Rev. Kafoa Muaror, Nazarene College principals, families and friends. Rev. White Kintak – Nazarene College of Nursing principal led the organisation of this celebration.
Dr. Hualupmomi challenged the graduates to show professionalism in their chosen careers, and continue to look for opportunities that will improve their learning and gain more knowledge. "You can study in different fields once the opportunity is there. You must not confine yourself to only one field. You can study management, nursing, Bible studies, teaching, accounting, law and other fields. When you have knowledge in different fields, you will be in high demand and can work in different areas." He added.
The Asia-Pacific Region rejoices and celebrates with the Melanesia-South Pacific Field on this momentous achievement of the colleges. Continued prayers go with the graduates as they serve in their chosen field.