Have you ever waited for something and then God reveals to you that it's time to move?
I am never good at waiting, but I remember exciting moments in my life when the wait is over and the Lord has finally answered prayers.
I was talking to Tumua Uelese, the District NYI President of Samoa, over dinner, when she told me how she waited on God to show her what would be the main theme of their youth camp this year. One day, as she was scribbling words on a paper, the encouragement came from the Lord, and the word was, MOVE!
On September 3rd to 6th, 2017, around 250 young people from the 16 churches in Samoa, including American Samoa, gathered for this year's youth camp with a challenge to MOVE! I had the opportunity to go to the heart of the South Pacific and witness the movement of God in this beautiful island of Samoa.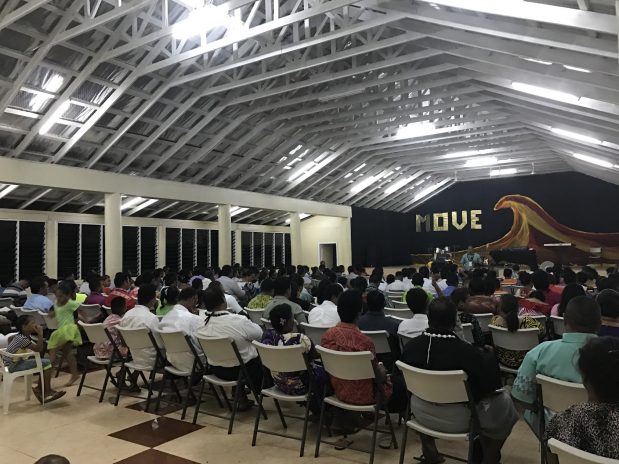 The gathering was a mix of fun and fellowship; food for the mind; a challenge for the body; and strengthening of the Spirit.
I said the "challenge for the body" because the young people did sports and games under the heat of the sun, as well as a Tabata workout in the mornings that took our breaths away. Haha, I am making a joke here, as the intense exercises literally took my breath away. It was fun though, as the young people chanted the "I like to move it, move it" song.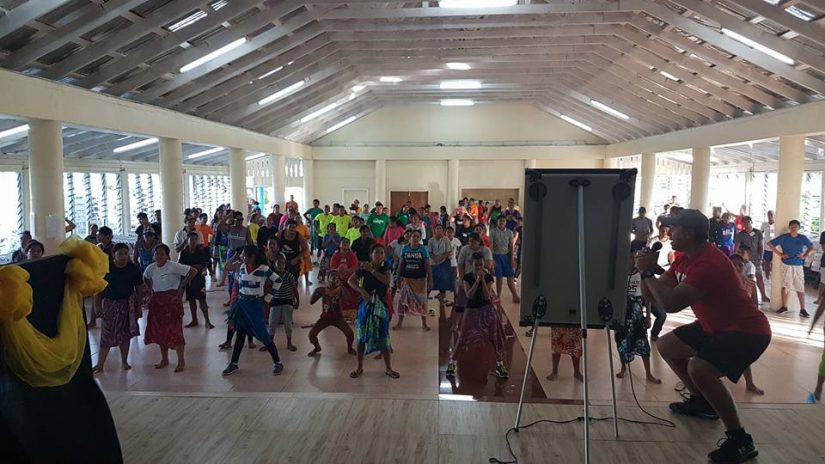 Workshops were offered about leadership and worship, as well as divided sessions with topics specifically for men and women, teens, and young adults.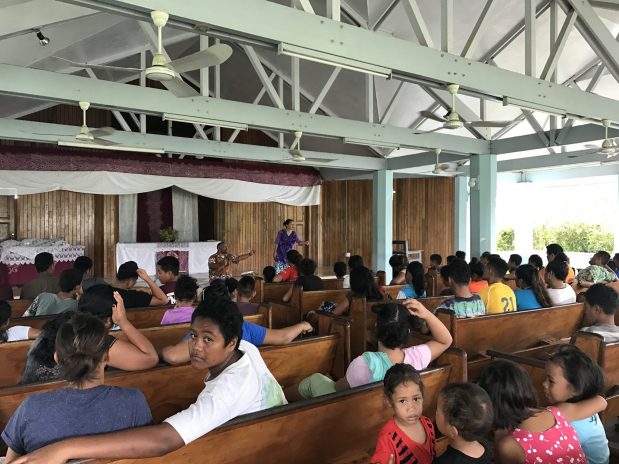 There was also a time when groups went out to share the gospel with the neighborhood.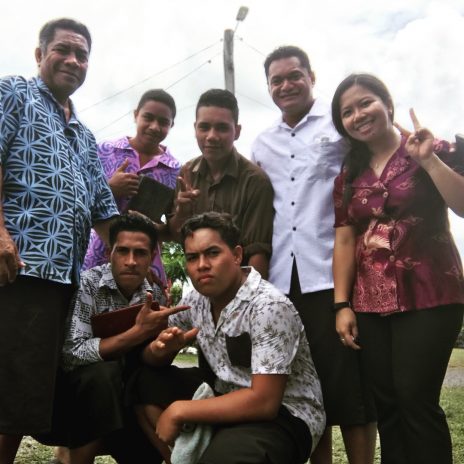 Agnes Faaleaoga-Silafau, the NYI Vice President for Nuuuli, American Samoa shared:
"Being a part of the youth camp for the first time was a blessing. The highlight of the camp for me was the leadership training with Pastor Lenny. That seminar made me realize that I'm being too comfortable and need to make that extra step in being involved with our youth. That song I've got to move it move it is stuck in my mind now from his seminar. 🙂"
The Field Youth Coordinator for Melanesia and South Pacific Field, Daniel Latu, also came to Samoa together with our Youth Mentor from Papua New Guinea, Allan Haunje.
Daniel's challenge for the young people when He shared the Word on the paralytic with his four friends was really on point and Allan's testimony of God's movement in his life despite his recent ordeal was a powerful example to us all.
One of the highlights for me during this time was to see the passion and hear the splendid voices of the young people every time they gathered for prayer and worship. I would close my eyes when they would sing their hearts out, and I could dwell in that moment. I did not understand the language, but my heart was lifted up by the beautiful harmony. These Samoans can dance too. I mean it was just amazing to watch them during their talent show. Wow.
I believe though that worship is not limited to when we sing our hearts out in the church but whenever we offer our lives as a living sacrifice and let the Holy Spirit use us for his purposes, every day of our lives, outside the four walls of the building where we gather.
I saw the young people move and respond to the challenge during the last night of worship when three waves of young people came forward to offer their lives at the altar.
The District Superintendent of Samoa, Rev. Mona, shared the Word that night:
"Brothers and sisters, I do not consider myself yet to have taken hold of it. But one thing I do: Forgetting what is behind and straining toward what is ahead, I press on toward the goal to win the prize for which God has called me heavenward in Christ Jesus." Philippians 3: 13-14
And at the end of the sermon, He called young people to the altar three times.
First, he called those who would receive Jesus as their Lord and Savior. Young people came forward and it was a beautiful moment seeing not just the young adults, but even young little kids come forward.
Second, he called the people who would like to grow up in their faith and move from being a baby Christian to a mature Christian. I was humbled by the confession of the young people that came forward, asking the Holy Spirit to sanctify them.
And third, he called the people who would like to be God's servants in His Kingdom, and people came forward, surrendering their lives for the Lord's cause!
If there is one thing I will never forget during my time there, it was this last night, when the Holy Spirit moved hearts and moved the young people out of their comfort zones.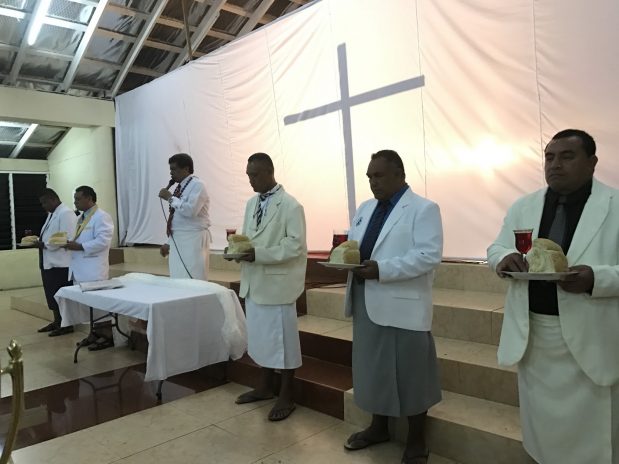 One of the young people from Ululoloa Church, Nere Moemoe, described her experience of the recent gathering:
"This camp is different for me. I am not the kind of person that would socialize and share with others; but this time, I was more open, I shared with those who were a bit down, and encouraged a sister or brother who was distanced from us. It was amazing because I never thought I would do such a thing but I did. The theme MOVE and the wave as a backdrop reminded me so much that there are things in my life that I need to let go in order for me to move in this mighty wave and so I did. I've seen a lot of improvements in the young people of other churches too. So for me, this camp was a change. I thank Abba father for leading me to it and my best friend Holy Spirit for guiding me through."
How about you? What are the things in your life that you need to let go in order to join the mighty movement of the Holy Spirit in this world?
–Janary Suyat de Godoy