Ulaanbaatar, Mongolia: WM Communications Asia-Pacific (WMC-AP) held a four-day media training – Communicating Christ Creatively in the Mongolia District Church of the Nazarene on 8-11 August 2023. More than 20 youths and adults from 4 churches attended the event.
The four-day training equipped the participants in video production – from planning/pre-production, capturing stories through photography and videography, and also post-production (putting together all the elements of the video). They also learned the basics of audio production and graphics design. The participants not only learned the theories and principles, but they also had hands-on practice. At the end of the training sessions, the team finished two projects – a music video using the original composition of one of the participants and a video interview.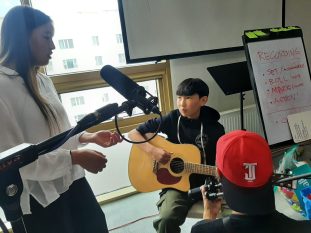 This training was birthed from the vision of the local leaders in Mongolia to produce a podcast using the devotional book the district published a year ago entitled – Life in 7 Minutes. They want to use creative ministries to reach out to the children and young people in Mongolia. WMC-AP came alongside the district to assist them in developing a media team to start these creative ministries in their city and country.
"This training was so beneficial for me. I learned a lot about video production and photography. I was able to apply the learnings immediately during our family trip this summer. Thank you to those who took the time to organize this training. I will continue to practice and use what I learned in the training every day." – Egshiglen (media training participant)
"As a team, we work on a devotional book for teenagers. Since we launched the book, we have learned that there is much work to be done and much to learn. We saw the need to start a media industry and form a team of youth to reach out to the youth. We are very happy to talk to the WM Communications Asia-Pacific team and take the training to prepare the team. The training has taught us much more than we expected and they also taught us many practical skills. All the participants were very interested as they learned how to use the camera and the different roles in video production. We will start in September to form a team with audio and video. Our team will continue to train with WMC-AP every month via Zoom until we launch our program next year. We appreciate for cooperation in improving the Mongolian team's skills in media production. Thank you for your support and love for us." Bayarmaa Alyeksandr
World Mission Broadcast also partners with the Mongolia district by providing the Backpack Studio equipment for their podcast. The Backpack Studio is one of the services/ministries of WMB to the districts/fields/regions. The backpack includes – a computer, microphone, and other accessories that can be used to create content that can be shared on different media platforms.