Manila, Philippines: Every year many students sign up for LoveWorks at Point Loma Nazarene University, desiring to be immersed in another culture, build relationships with those in God's global church, and experience the joy of ministry worldwide. Last May, 10 students and faculty from Point Loma Nazarene University came to the Philippines as part of the LoveWorks Team, which is a student mission team that serves alongside their host churches to be hands and feet of Jesus.
Mary and Cory, two members of the LoveWorks Team shared their experiences in the various places that they visited and how these experiences have impacted their lives.
Our trip began at Asia Pacific Nazarene Theological Seminary, where we greeted our hosts, Kevin and Janet Wilkins, Nazarene Missions Teams Coordinators. They prepared us for all that our next three weeks had in store, and just like that, we started off on our journey!

We spent several days at the Church of the Nazarene, General Mariano Alvarez (GMA) & Lingap Bata Child Development Center. Our team was blown away by the work that Rev. Stephen Gualberto and his team are doing through this church. Here we were able to join in on their children's ministry, assist with creating a prayer garden, go on a prayer walk with the GMA church members and staff, participate in home visits (praying for the community in their home), attend their church service, and be encouraged and inspired by the young leaders of the church. Our new friends remain close to my heart as I take their dedication and passion for leading in the church home with me.
"While at the GMA Church, I had the opportunity to do home visits to the families of the Child Development Center. This experience was revealing yet heavy for me. Praying over the families and witnessing the home conditions was moving. Emotions of sadness, anger, fear, curiosity, and hope were prominent when our team debriefed this experience. I was particularly moved when learning about how the culture of shame impacts the Philippines. In one of the homes I visited, the mother apologized to me for how small her home was and the state of her roof. In this culture where hospitality is so prominent, I can only imagine how one might struggle with the intersection of hospitality and shame. I pray that through this local church, this mother can find peace knowing that her family is enough, her home is enough, and most importantly, she is enough in the image of God." – Cory Yoshimura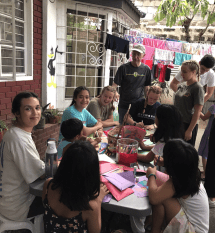 "The next several days were spent at Shechem Children's Home (SCH). SCH is an Assessment Home for Online Sexual Abuse & Exploitation of Children (OSAEC) survivors. It is easy to say that the children blew us away with their joy, friendship, resilience, and silliness. During our time here we were able to form relationships with the children, paint their living room and paint colorful murals on their walls, and learn about the local danger of OSAEC. The children I met have a special place in my heart and I know I will continue to miss and pray for them." – Mary Barnes
We were also able to visit several churches planted by the River of Life Church, where we participated in both children's ministry and work projects. Rev. Jackson T. Natividad and his team shared their ministries in nearby communities. Perhaps our favorite part of experiencing these churches was noticing how they all play such a vital role in supporting their local community. The church leaders are involved in the community, present for their church members and generous with their time and resources. We were also struck by how many ministries can happen with so few resources. Don't have a church building yet? Just meet on the street in front of a member's home. Watching these newly planted churches and their thriving ministries was an encouragement to our group.
It was a race against time as we traveled up north to visit the Philippine Luzon District. Unfortunately, typhoon Mawar headed our way and we had to cut our time short to get back for an early flight home to beat the storm. Being able to partner with these ministries was a blessing. We were encouraged and learned so much from a church that is across the world. It was a priceless experience, and we say thank you to everyone who went out of their way to include our team in the wonderful ministry that is already thriving in the Philippines. God is certainly moving in people through the ministries we saw.
Written by: Mary Barnes & Cory Yoshimura