Cheonan, Korea. From October 7 to October 9, 35 Korean missionaries serving in 20 world areas gathered at Korean Nazarene University to report on their local ministries. This was the second time Korean missionaries have gathered for such an event, with the first conference being held at Asia-Pacific Nazarene Theological Seminary in 2013.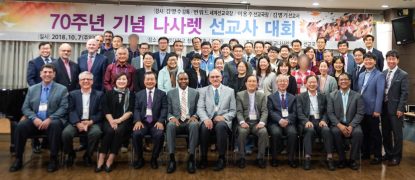 Attendees also included General Superintendent Filimao Chambo, Global Missions Director Verne Ward, Korea District Superintendent Yoeng Soo Kim, and several leaders of Korea District NMI, Asia-Pacific Region, and Korea Nazarene Univerisity.
Verne Ward gave a lecture on the Nazarene mission policy, and missionary Timothy Kim spoke on the life of a global missionary. There were meetings with the FSCs and the conference was ended with a concert for the missionaries.
"As a young, new missionary, I personally had a good time with all the missionaries." Missionary Mireu Kim said, "The conference helped me to understand how the global church works together globally and locally."