In South Korea, May is known as "Family Month," as it contains three special days; Children's Day (May 5th), Parents' Day (May 8th), and Teachers' Day (May 15th). Some people also celebrate National Adoption Day, Coming of Age Day, and Married Couples' Day.
Dawn Dew Community Church, pastored by Rev. Seong Leek Kim, handed out Carnation-shaped soaps to their neighborhood in celebration of National Family Month. By sharing love, it warmed the hearts of the church's neighbors.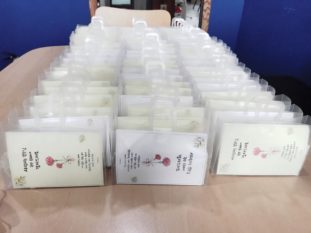 In Korea, the carnation is used frequently in National Family Month. Usually, fresh carnations are presented to parents and teachers on Parents Day and Teacher's Day. However, because of COVID-19, it is difficult to give carnations in person. With this in mind, the Women's Prayer Meeting of Dawn Dew Community Church decided to make carnation-shaped hand soaps and handed them out to parents of church members. As an added bonus, the gift not only expressed gratitude but can also be used to disinfect hands. Since the response of this event was excellent, the church also handed them out to neighbors. The neighbors were greatly impressed by the church's care and love. While the spread of COVID-19 has been a challenge for local churches, Dawn Dew Community Nazarene Church's actions have been an inspiration to the community.
Contributed by Hyun Myung Park, Korea National District Communications Coordinator