Singapore: The Asia-Pacific Regional office had the honor of hosting Rev. Yoon Moon Gi, newly elected District Superintendent of the Korea National District and a delegation of leaders from the district. During this time strategic conversations were held regarding the future relationship between the district and regional office. Strong commitments made to connect more frequently, collaborate more missionally, and consult more strategically.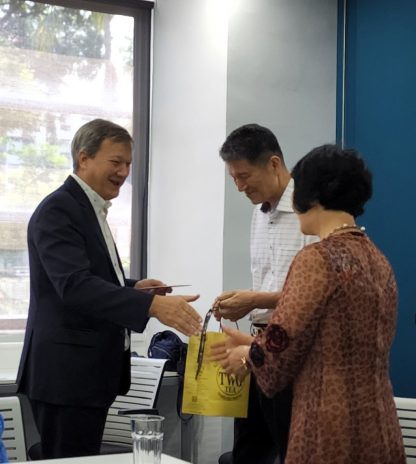 One of the highlights of the meetings was the presentation of a significant cash gift to Asia-Pacific Nazarene Theological Seminary (APNTS) by Mr. Lee, YongGyu and Ms. Kim, YoungHe, a loyal Nazarene couple of the AnJung church where District Superintendent Rev. Yoon Moon Gi is a pastor. Mr. Lee and Ms. Kim officially presented the gift to Dr. Mark Louw in his capacity as both Regional Director and APNTS Board of Trustees Chairman. Through their generosity and vision for the theological preparation of Nazarene leaders from across the Asia-Pacific Region at APNTS, a scholarship has been established in their name with financial awards granted to approved applicants.
With the delivery of theological education undergoing seismic shifts and the potential for a larger distributed non-residential student body a new reality, this gift makes graduate education accessible for those economically disadvantaged.
"My prayer is that the LORD would continue to impart a spirit of generosity across the Church so that those who feel led, will give for the expansion of the Kingdom of God." – Dr. Mark Louw