Hela Province, Papua New Guinea:  After nearly four years of struggling to locate land for establishing a Nazarene Church in Hela Province, the dream  has finally been fulfilled.
Rev. Nicolas Ipisa and his wife Esther, had the dream of planting a church in the heart of Hela Province.  With the help of a layman, Simon Kunini, they began searching for that place where the Lord was leading them.
Please see the end of this story for an urgent update and Request for Prayer!
The land has been located, a church erected, and God is truly at work. Daniel Eka, National Communications Coordinator for Papua New Guinea, sent in the following report on December 18th.
A week of services were held in preparation for the official dedication of the church.  We are praising God! During the services, 40 people gave their hearts to the Lord for the first time. Eight people were baptized! These 8 people are pioneer Christians of the new church here at Koroba Government Station.

Several people came to participate in the services and the dedication of the new church.  Among them were: Missionary Rev. Mike Chapman, Rev. Thomas Enoch (DS of Chimbu/Eastern Highlands), Rev. Peter Degene (DS of Hagen District), Rev. Joseph Yapasi (DS of Southern Highlands District) Rev. Samual Walbe (Chaplain of Melanesia Nazarene Bible College).

We are believing that this is just the beginning! Hela will never be the same!  God's Spirit is moving and impacting lives in marvelous ways. The message of scriptural heart holiness is penetrating and challenging the hearts of those here in the province.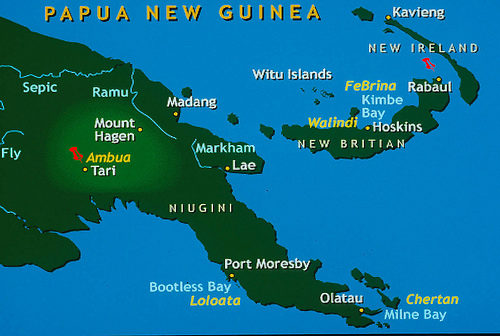 Hela Province is located in the highlands of Papua New Guinea, and is home to more than 250,000 inhabitants.
Please continue to pray for the ministry in Papua New Guinea. Another crusade will be held in the Kagu-Erave District, which is located in the Southern Highlands Province, 22-26 of December.
*** Update ***
The very afternoon after this story was published, an urgent request for prayer was received from the team in Hela Province.   At approximately 6:30pm on December 19th, the layman who had been so instrumental in getting the church established, Simon Kunini, died suddenly.
This came as an incredible shock to all of those who were gathered for the dedication of the new church.   Please commit to pray for pastor Nicolas, his wife Esther, Simon's family, and this new family of believers at Koroba Government Station.   We are reminded that, "Our struggle is not against flesh and blood, but against the rulers, against the authorities, against the powers of this dark world and against the spiritual forces of evil in the heavenly realms." (Ephesians 6:12 NIV)
As territory is claimed and taken for our Lord's Kingdom, you can rest assured that the spiritual battle for souls in Hela will be intense!
Click here for more urgent prayer requests from the Asia-Pacific Region.  Thanks for being a prayer warrior!
— Submission: Rev. Daniel Eka
Feature Photo Credit: A Huli man with a homemade gun, also called "one-shot gun," in a village nearby Tari, Hela Province. Image by Céline Rouzet. Papua New Guinea, 2012.