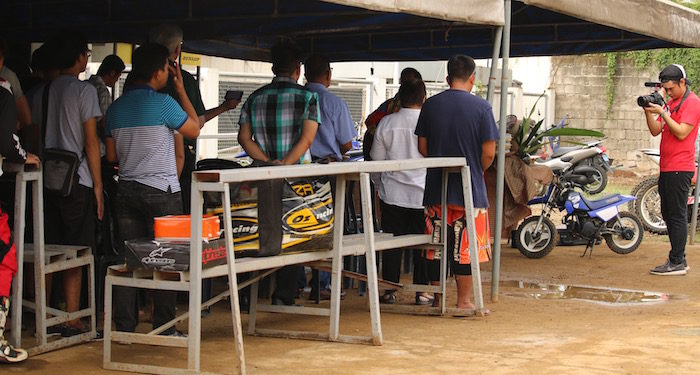 Manila, Philippines:  So just what is Church?  If you were asked that question you might think of a building, walls, projection screens, pews or chairs, a sanctuary or auditorium… or… a Motocross Race Track??
On Saturday 19 November 2016, District Superintendent Arnel Piliin, Philippine Micronesia Field Strategy Coordinator, Stephen Gualberto, Asia-Pacific Nazarene Theological Seminary (APNTS) President Dr. Bruce Oldham, Pastora Lucinda Tamayo and many men, women, boys and girls, dressed in brightly colored Motocross gear, gathered at MX Messiah Fairgrounds.  Under bright blue and white tents they celebrated the recognition of an out-of-the-box (or perhaps out-of-the-starting-gate) ministry to people who might never otherwise enter the doors of a traditional church building.
This group of extreme sports enthusiasts has been meeting regularly for quite some time on Sunday mornings at 10:30 for Bible Study, halting the morning practice and coaching sessions.
Sam Tamayo, a former Shell/Yamaha Team motocross champion, had a vision several years ago of having a venue where people who are passionate about extreme sports, could come and learn, ride and play, and at the same time hear about the real race in this life.  Sam's personal story of his near death experience on the way to a race that left him in a coma and took the life of his father who was not only his coach but also his pastor and a District Superintendent, connects with people and shows them there is hope.  Sam's life is 100% dedicated to witnessing at every opportunity given, from speaking to his students, to witnessing to government officials when given the chance.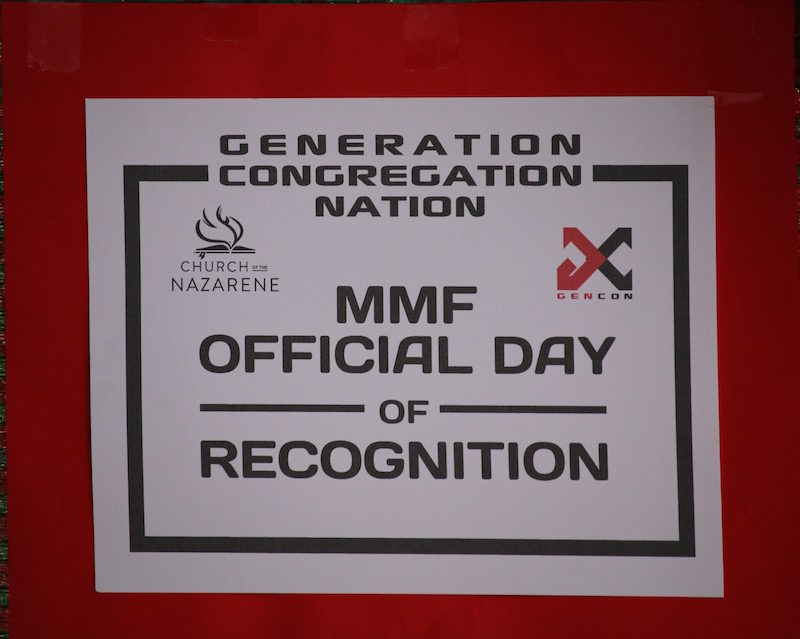 Get ATR Newsletter directly in Your Inbox
This new church type mission goes by the name of Generation Congregation Nation or GenCon Nation. Sam (a MDiv graduate of APNTS and ordained elder) alongside his NACLS bandmates and fellow NYI members, pioneered the Generation Congregation Youth movement and English Service at TFCN that now has several hundred teens and young adults in attendance every Sunday at Taytay First Church of the Nazarene.  But God called him away from that dynamic group to a new thing that God wanted to do in the lives of individuals and families in a way that connects through extreme sports.
During the service Pastora Lucinda Tamayo, who serves as senior pastor of Taytay First Church of the Nazarene and who also happens to be Sam's mother, gave a moving testimony.  She described how when Sam started this out-of-the-ordinary ministry, she just couldn't see what God was doing. She now praises God for leading the way and creating a family of believers in such an unlikely place.  Her presence was a symbol of the commitment and love she has for not only her son and his unique ministry, but for GenCon Nation as well.
Metro Manila District Superintendent Arnel Piliin officiated the event, sharing the core beliefs of the Church of the Nazarene, that we are Christian, Holiness, and Missional, and welcoming this group into fellowship of the global Nazarene community.  His message and challenge were to take the gospel to others and continue to strive to live a holy life as the Bible calls us to do.  The glow on the face of each one present was testimony to what God has been doing in each of their lives and their passion to not only serve Him but become part of a larger community of beleivers.
True to form, the formal ceremony ended and those present got back on their dirt bikes and proceeded to practice for the upcoming race.  The smiles on the faces of the riders and their times of prayer together reminded everyone present of the real race that we are all in, the race for souls.