Suva, Fiji: The Fiji Women's Ministry held its first gathering to celebrate the Global Week of Prayer last 3 March 2023, with the theme "Better Together" based on the text Ephesians 4:1-5.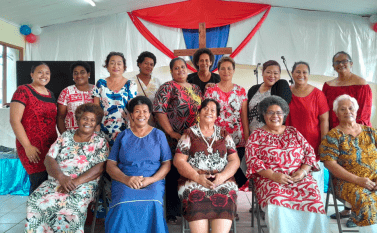 The Church of the Nazarene's Global Week of Prayer was inspired by the worldwide observance of the World Day of Prayer. This movement began in 1996 and was embraced by Nazarene Missions International to bring Nazarenes from all over the globe together in prayer. During this week-long event, the focus is on lifting the various prayer requests from fields around the world.
Meanwhile in Fiji, the Women's Ministry held a Prayer event where their committee prepared different prayer stations following the ACTS (Adoration, Confession, Thanksgiving, and Supplication) Prayer Structure. They also allotted time to pray for Taiwan which is their country's prayer focus.
The prayer of Adoration was conducted corporately through praise and worship and then the women were divided into four groups and dismissed into their assigned prayer stations with about 20 minutes per station.
Radini (First lady) Alani Boladrau led the Confession prayer station; Pastor Palinda Kaitu'u led the Thanksgiving Prayer station, Radini Christine Fatiaki led the Taiwan Prayer Station and Rev. Sharon Latu led the Supplications Prayer Station.
These prayer stations were the first of their kind and held about 2-4 people per group which made for a very authentic, vulnerable, and deep time for real prayer and intercession. One could see tears and at times smiles as women passed from one prayer station to the next.
One attendee remarked, "The time was too short for us. We really enjoyed our stations and realized there is much to pray for." Another said, "I thought I was too late until I saw the Facebook LIVE and I rushed my husband to get ready and we made it just in time for the stations."
Rev. Sharon Latu shared about the event's theme, "Better Together" which is based on Ephesians 4:1-5. Also, D.S. Rev. Daniel Latu encouraged the women to continue the heart and the fire of prayer in their own lives and ministries.
Prayers are welcomed for Fiji Women's Ministry as they lead in service for both the Fiji District and their local churches.