Central Philippines:  Reports are being received from the Central Philippines of families evacuating, our churches becoming shelters, and stores now closing, in the face of heavy seas and increasing wind.
According to Weather Underground and other sources, Hagupit is forecast to not be as bad as Haiyan, but still to be a devastating storm.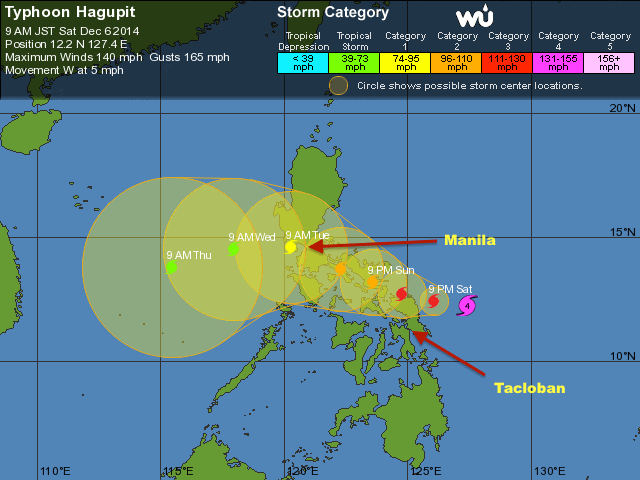 After a period of weakening on Friday, the storm has rebuilt its center from the initial 22 km (14 miles) to now 17 km (27 miles), and began intensifying again late Friday night (local time).  It is reported to have a very intense eyewall of thunderstorms.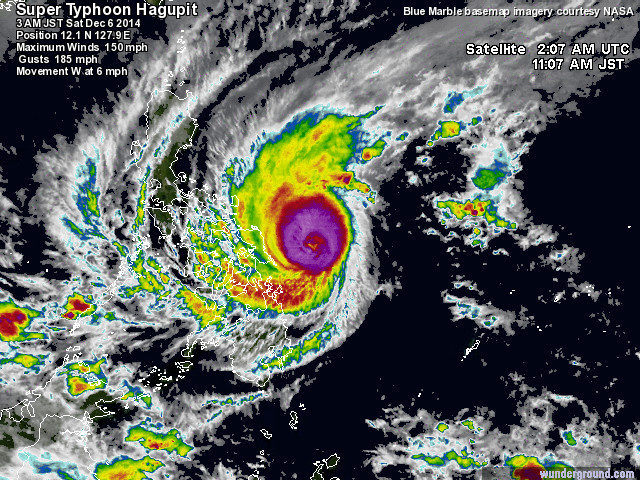 While the storm is weaker than Haiyan (Yolanda) was in 2013, authorities are no less concerned.  Hagupit is expected to move very slowly through the Philippines at about 8-16 kph (5-10 mph), resulting in  a longer period of subjecting the country to extremely damaging winds, a large storm surge, and torrential rains causing extensive flooding and mudslides.
Get ATR Newsletter directly in Your Inbox
Currently Hagupit is likely to track very close to Manila, the capital of the Philippines.
Bullet Points and Church Response Update:
Typhoon Hagupit has slightly weakened as it moves toward Eastern Visayas Region with maximum sustained winds of 240 kph (150 mph) gusting to 300 kph (185 mph).

Hagupit is projected to make landfall between Northern Samar and Eastern Samar provinces during the night of Saturday, December 6, and Sunday, December 7.

Estimated to bring storm surge of up to 4.5 meters (14.75 feet)

More than half a million people in the typhoon's projected path have sought refuge in evacuation centres so far.

Nazarene Evacuation Centers have been established:

Eastern Visayas District:

Borongan Church

Ormoc Church – (currently 20 families sheltered)

Tacloban Church – (currently 20 families sheltered)

Talisay Church, Balangkayan Eastern Samar, (Church full)

Panay District

Estancia Church

Culasi Church

Bicol District

Churches are accommodating members and non-members alike.

Food is being provided through the churches by local members, reaching out to their communities, and through supplies being provided by the government.

Some churches in the low lying coastal areas (Dulag as an example) have been forced to evacuate and have moved to higher places.
The Asia-Pacific Regional Website has developed a page specifically for live tracking, updates and social media feeds from field.   Bookmark this page at:  https://asiapacificnazarene.org/typhoonhagupit
Those in the field can submit stories and photos to this site by hash tagging your posts with: #NCMHagupit
Please continue to keep the country of the Philippines and these incredible pacific islanders in your prayers!