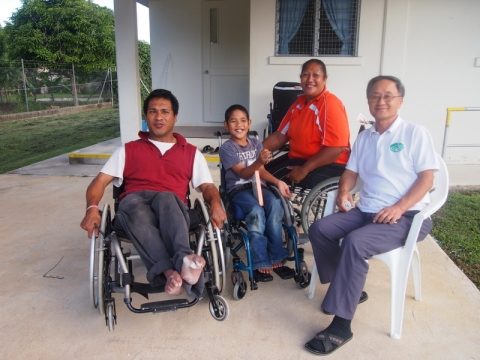 Kingdom of Tonga: Who knew that a simple wheelchair would not only bring physical relief to the disabled, but a sense of emotional and spiritual rejuvenation as well?
Blessings were upon the disabled and their families in the Kingdom of Tonga! Thanks to the efforts of numerous groups spearheaded by Fred Faith, 115 wheelchairs were sent to the island.
Fred Faith is a former Nazarene Missions International (NMI) President for the Alabama North District. During his prior trip to Tonga to help layman Donald Hunter in building a missionary house, he met In-Kwon Kim and his wife Jeong-Seok, directors of The Mango Tree Centre.
The Mango Tree Centre was founded in 2005. The facility provides rehabilitative therapy, vocational and social training, and spiritual formation to help the disabled and their families in Tonga.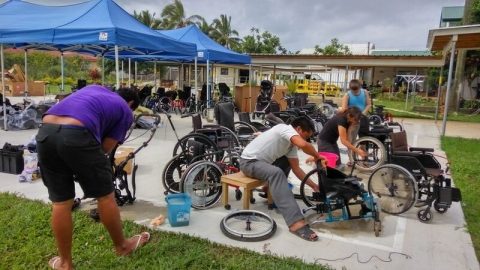 In-Kwon told Faith about what they do on the island, and the ministry touched Faith deeply. In-Kwon also mentioned to him the need for  more wheelchairs on the island. According to him, the Kims' dedication in serving the people challenged him to do more.
When Faith returned home, he shared the need for more wheelchairs with Casey Faulkner, current district NMI president.
Faith also continued his communications with In-kwon. They were able to secure a partnership with Joni and Friends, the Christian ministry of Joni Eareckson Tada, a quadriplegic who is an international advocate for people with disabilities. The organization happily donated refurbished wheelchairs through an educational program at the Stafford Creek Corrections Center in Aberdeen, Washington.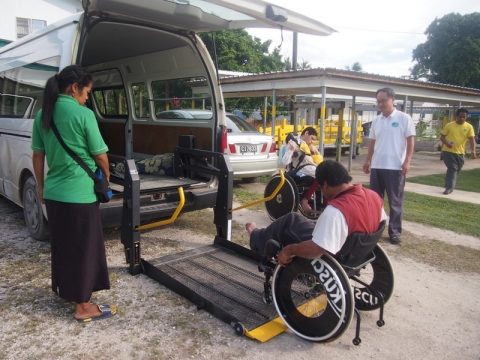 Now that there are available wheelchairs, next on the list is raising funds to ship them. And how God provided! Alabama North District Assembly received offerings. A corporate friend of Faith's matched the offering received. Alabama children also contributed by holding fundraisers and selling candy. God's Spirit was upon the shipping company as well- when they found out what the shipping was for and who it would help, they sent a $250 check to Faith for added funds! Not only were there enough resources to ship the wheelchairs, there were also adequate funds for Hunter to stay in Tonga to complete the construction of the missionary home!
The wheelchairs were donated to various recipients.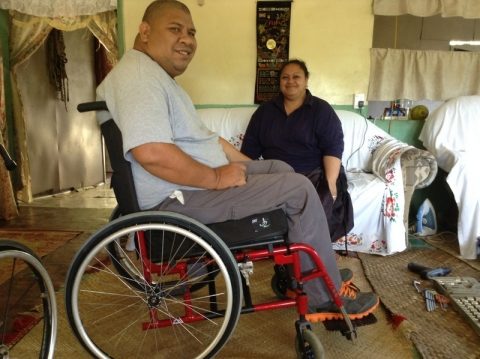 God has indeed put the puzzle pieces together to make this project possible. And blessings keep pouring in for the community! SangAmDong Church in Korea sent a team to conduct a wheelchair workshop building. Specialists from the Australia New Zealand field came to help people to fit in their chairs. An anonymous Nazarene from the Asia-Pacific Region donated funds to buy a wheelchair van. We are hoping for more to come!
We are truly praising God for his provision to the disabled in Tonga. We continue to pray that more people will be touched to extend their helping hand to make a difference in the lives of those in need in the island.
-Story and Photos from Engage Magazine