Parua Bay, New Zealand: New Zealand District held a youth summer camp on 9-12 January 2023. Nearly seventy-five Nazarene teens and leaders came together to attend this event. This is the first district youth camp since 2020 due to cancellations brought by the COVID-19 pandemic.
District NYI President Mativa Lauina led worship and games, and Australia New Zealand Field NYI Coordinator Cameron Batkin helped lead a mental health workshop. Other activities include a lot of indoor games since it rained most of the week, When the rain relented the campers went hiking, kayaking, and water sliding. There was also an annual talent show performance.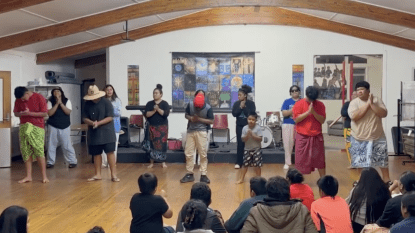 "God knew what obstacles we were going to face, and by his grace, the damp weather didn't dampen the spirits of our campers," Mativa said. "Camp is such an important event for us, and after a break due to COVID-19, we had a very excited group who had been eagerly waiting for the opportunity to fellowship again."
After a couple of years of isolation, this year's camp felt like a reunion. Unfortunately, one camper suffered a broken ankle during free time. When he returned from the hospital, the whole group cheered and created a tunnel for him to reenter. Rev. Batkin commented, "I have been to a lot of youth camps over the years, but the love, acceptance, and community found in New Zealand make the youth camp a real highlight of my year."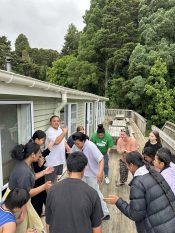 Leaders from the New Zealand District and the Australia-New Zealand Field led daily morning and evening services. Pastor Tau Maiava from Seabrook Church of the Nazarene (New Lynn, NZ) preached twice; NTC Principal Dr. Rob Fringer led three services; and on the last day, ANZ FSC Roland Hearn spoke and led communion. In the small group times that followed each service, it became clear that God is teaching, calling, and empowering New Zealand's Nazarene youth.
Dr. Fringer reflected, "This was my second time speaking at the New Zealand Youth Camp, and both times I came away encouraged. We have a great group of teens and leaders here, and they are helping us to be a better church in the present. We can learn a lot from them about how to love, encourage, and support one another and how to have fun together."
Next year's camp is twelve months away, but it's time to begin planning and fundraising. Pray for Mativa and the NZ NYI Council as they prepare for next year and continue to lead in the present.
By Andrew & Jenna Stout, AU-NZ FCC