It has been a year full of crunching numbers all over the world. How many cases of sickness.  How many days of quarantine  How many deaths. And on and on. And what has all the counting brought us?
Nothing but fear, discouragement, and division.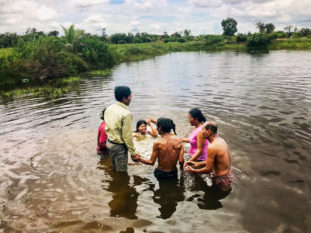 However, in the church in Cambodia, the numbers tell a different story. We have just completed our annual report, and we want to share that story with you. Although many people might be tempted to minimize or even disdain the incessant counting and tracking of statistics, we rejoice in the opportunity to see what God is doing in and through His Church!
Sure, things have been difficult. Sure, we could tell you of all the struggles the people and churches in Cambodia have to deal with on a daily basis. But instead, we will "fix our eyes on Jesus, the pioneer, and perfecter of faith." We "will not grow weary and lose heart," but will "throw off everything that hinders" (Hebrews 12:1-3), rejoice in what God is doing and continue to "declare His glory among the nations, His marvelous works among all people!" (Psalm 96:3)
So what do you have to rejoice about? We have 61 Nazarene churches, most of which are small house churches that are not yet even organized, and none of which has an ordained pastor yet.
In 2020, we witnessed 211 people commit their lives to Christ!
Like many other countries, Cambodia has been locked down for over a year, unable to gather in groups of more than 10-20. It is a place where the church has no online presence because "online" is not something that is available in most of the villages where we have churches.
In 2020, 291 new people joined the Nazarene Church, an almost 13% increase over the past year, bringing total membership to 2264!
Cambodia has 50 district-licensed pastors and 11 locally licensed pastors, and most have no building other than their house in which to meet.
In 2020, we witnessed the baptizing of 449 people who desire to follow Christ's example.
If you would like to partner in making disciples in Cambodia, please click here to learn more.

Article submitted by Kevin Campbell-White,
District Superintendent of the Cambodian District