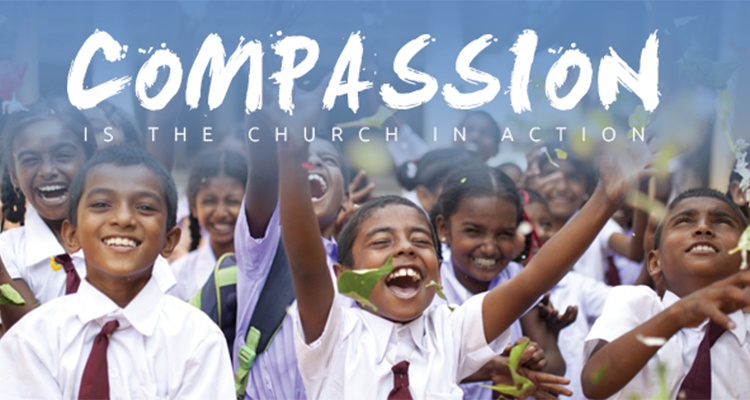 Global Ministry Center: December is Compassionate Ministries Month, a time to celebrate the way God is transforming lives through the Church of the Nazarene's acts of Christlike compassion worldwide.
Congregations are encouraged to set aside a Sunday during the month of December to focus on God's call to active compassion. Resources from Nazarene Compassionate Ministries are available to help congregations think about living compassion in the margins of the world and to consider what it means to join the work being done by churches around the world.
Across six world regions, local Nazarene churches are responding to the needs of children, families, and individuals in their communities. One of the largest areas through which churches show compassion is holistic child development ministries. Across 37 countries, 164 Nazarene child development centers are caring for more than 18,000 children living in difficult circumstances. Through holistic child development, children are encouraged to grow through opportunities that include education, nutrition, health and hygiene education, life skills, and spiritual nurturing. In 2016, Nazarene churches in 13 countries opened 18 new child development centers.
Another key area of compassion through the Church of the Nazarene is response to natural disasters and other emergencies. In 2016, floods, earthquakes, storms, drought, and famine devastated communities around the globe, and local churches were there to respond. In April, a 7.8-magnitude earthquake struck Ecuador, causing the deaths of 640 people, including members of Nazarene churches. More than 26,000 were displaced from their homes. Through support from the global church, local congregations in Ecuador were ready to respond with water, food, mosquito nets, blankets, and medicine.
In October 2017, when Hurricane Matthew swept through parts of the Caribbean and up the eastern seaboard of the United States, local churches responded. In Haiti, 1.4 million people were in need of assistance, and dozens Nazarene church buildings were damaged. The majority of people in the most affected areas lost their homes and had little to no shelter. Through the support of the global church, local Nazarenes were able to distribute hundreds of crisis care kits and tents and thousands of food packages and water filters. In the months that have followed, churches continue to care for people affected by the hurricane.
Natural disasters aren't the only events that create great need. In Jordan and Lebanon, millions of Syrian refugees have sought safety and hope after fleeing a crushing civil war. Churches there have been providing for the needs of refugee families in their communities, including scholarships to Nazarene schools for children living as refugees who would not otherwise have a chance at education. Individuals and churches worldwide have contributed to these scholarships to help children haunted by war hold on to hope for the future.
As millions of refugees have journeyed toward safety and stability through Greece and central Europe, Nazarenes have been there to provide for immediate needs and to provide a ministry of presence. As families and individuals living as refugees make their way to countries in Northern Europe, Nazarene churches there are also offering compassion in the name of Christ.
These are just a few examples of the many ways Nazarene churches across six world regions are seeking to live out Christlike compassion. Through Compassionate Ministries Month, Nazarene congregations have the opportunity to renew a commitment to God's call to compassionate living.
To learn more about Compassionate Ministries Month, visit ncm.org/compassion to download free resources.