Central Province, Papua New Guinea: 30 October 2022 was a blessed day for Central District because a new local church – the Veauava (Unity) Church of the Nazarene in Gavuone village on the Aroma coast, Abau District was officially organized as a local church. Rev. Ako Arua, District Superintendent officiated the organization of the local church.
If you look at the outside, the church seems like any other Nazarene church. But the district considers Veauava as a special church. What makes this church special is that the church welcomes and embraces as part of their family and membership those persons with disabilities, children with down syndrome, widows, widowers, and handicapped. These people are most often neglected by the community. But the church chose to love and care for them.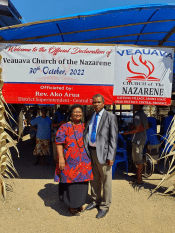 Pastor Mega and his wife together with their four-year-old son felt the call to pastor this church, even though they knew that the work would not be easy. Aside from the spiritual needs of the members, they also need to support their members with their physical needs. This special church is a reminder of how the Church of the Nazarene started in 1901 reaching out to the homeless, hungry, and needy people.
This church and its members need prayers and support. One of their members Jeremiah – a widower shared how his young wife died of childbirth complications and left him with 2 children (3 and 6 years old). Another member, a single father who is caring for his 2 kids with down syndrome, shares how other normal kids tease his kids because of their condition. Their members who are handicapped are also needing wheelchairs. These are just a few of the challenges that the church is facing. But in spite of these challenges, they are still blessed to have a church like this.
Rev. Akua shared, "We believe that the timing is right for us in the Central District Church. God is opening new doors for ministry as the harvest is ready in Central Province. We are excited for the harvest and ready to labor for the Lord. God is awesome and He gets all the glory. Amen."