Kingdom of Tonga:  Melanesia South Pacific Field leadership is keeping a close eye on Tropical Cyclone Winston, which has been churning in the South Pacific over the past week.
Situation Updates Added to the End of the Story
Given the current trajectory, which has been quite unpredictable over the past few days, Cyclone Winston is forecast to be arriving onshore in the islands of the Kingdom of Tonga over the weekend, while also bringing strong winds and rain to neighboring Fiji.
The storm currently has sustained average winds of 195km (105 mph) with peak gusts to 260km (163 mph).   Alerts have been issued for damaging wind, rain, and ocean storm swells.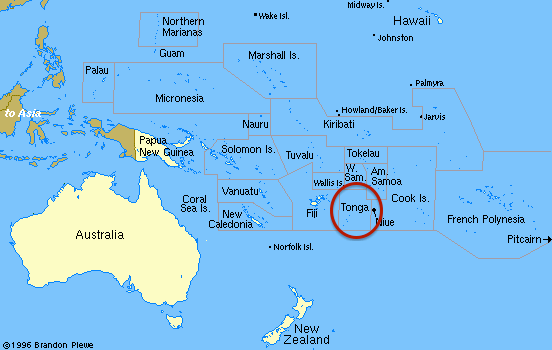 Some quick facts on Kingdom of Tonga:
Population: 105,000 (2013)
Made up of 177 islands, 52 inhabited.
Spread across 700,000 square kilometres (270,000 sq mi) of the southern Pacific Ocean.
Work of the Church of the Nazarene began in Tonga in 1998.
Current Nazarene Ministry is the Mango Tree Respite Center.
---
*** Friday Night Update, 19-Feb-2016
Get ATR Newsletter directly in Your Inbox
News was received late this night from Melanesia South Pacific Field Strategy Coordinator, Rev. Harmon Schmelzenbach, reporting that Cyclone Winston had reached the highest category possible, Cat 5, and was passing north of Tonga, on a direct course for Fiji.
"This is by far one of the most erratic [cyclones] we've tracked here in 16 years, breaking all the normal paths, so there's really no telling how this will go down," said Schmelzenbach.
Please be in prayer for the people of the Kingdom of Tonga and Fiji during this time as the storm approaches.