Manila Philippines: On 1 November 2021, a fire broke out in a community outside Manila in the Philippines, resulting in 40 families losing their homes. Nestled in this community, leaders at Bethany Church of the Nazarene found themselves amid the chaos as they reached out to their neighbors, their members, and the children from their kid's ministry. 
The church responded to the fire that night, helping people evacuate to a safer place and providing food and shelter. The following day, the church prepared hot meals and collected clothes for the fire victims. Many church members volunteered to help. The church responded to the needs of the victims, prioritizing by asking about their specific needs. They visited them in the evacuation center and cared for them.
Marvic, one of the church members whose family is also affected, expressed her thanks to the church.
"Thank you for letting my mother sleep in the church," she said. "[My mother] was not able to sleep for days now and was only able to sleep peacefully in the church."
In the weeks that followed, the church made arrangements for donations for the affected families. The church also put together hygiene kits, food packs, clothes, and essential medicines for the elderly. They also provided for the special needs of babies and nursing mothers. This work went on for two weeks. During this time, the church also extended emotional and psychological support for the children experiencing trauma.
"We've started the 'Thankful Series' for November at the evacuation site," said Danica Montemayor, a volunteer for the church. "And these children named their blessings one by one despite losing their houses. Their [appreciation] for the good things that the Lord has done stayed intact. They are hopeful and grateful."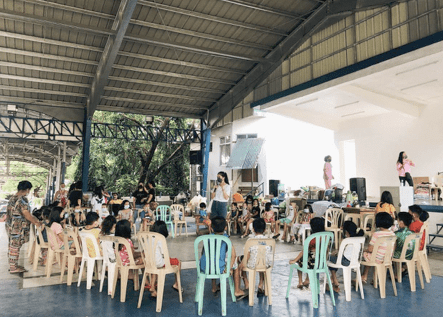 The "Thankful Series" helps the children process the traumatic experience. The team hopes that the children will know the love and peace of Jesus in this challenging time.
The church was inspired to gather funds to help some church members rebuild their homes. The fire incident impacted 15 families at Bethany Church of the Nazarene. The evacuation site has been closed recently, as the area where the fire took place has already been cleaned, and the rebuilding process has begun.