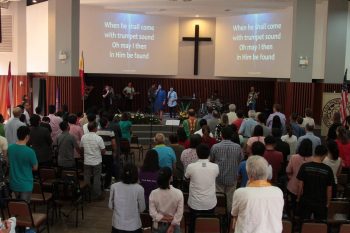 The 34th anniversary celebration for APNTS, held on Tuesday, Nov. 14th was a great success! The chapel service also served as a kick-off to the annual Spiritual Deepening Week, featuring the second President of APNTS, Dr. LeBron Fairbanks as speaker. The theme for the week was, "Whatever Happens, Walk Worthy."
The celebration service began with the APNTS choir performing, "I Call You to Praise," under the direction of Professor Becky Davis. Current President, Dr. Bruce Oldham, gave a warm welcome and provided a brief history of APNTS, followed by greetings from dignitaries, Dr. Filimao Chambo, General Superintendent of the Church of the Nazarene, Dr. Dan Copp, Education Commissioner, Dr. Mark Louw, Asia-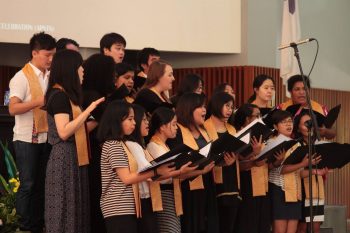 Pacific Regional Director, Dr. John Moore, Regional Education Coordinator, Dr. Don Owens, Founding President of APNTS, Dr. John Nielson, third President of APNTS, Dr. Hitoshi Fukue, fourth President of APNTS, Dr. Floyd Cunningham, fifth President of APNTS, and Dr. Brent Cobb, former A-P Regional Director.
An inspiring time of praise and worship was led by the World Mission Communications Asia-Pacific worship team, followed by the testimony of a distinguished APNTS alum, Dr. Jackson Natividad, who is making a significant contribution to God's kingdom. Dr. Fairbanks then brought a message titled, "Whatever Happens: Keep the Faith." Using scriptures Phil. 1:27, Acts 27:25, and Acts 23:11, Dr. Fairbanks shared about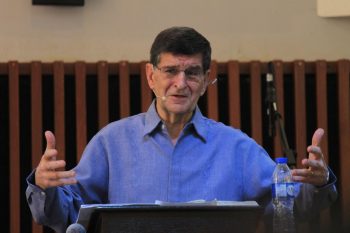 the faithfulness of God to His vision and direction for us. Key thoughts were: delays may occur, suffering and hardship may result, push ahead… don't look back, and believe Him regardless of the cost! Continuing the week, our thoughts were led to focus on additional messages on Nov. 15, and Nov. 16 titled, "Whatever Happens, Embrace the Tensions," and "Whatever Happens, Watch our Words." The final service closed with several going forward for prayer, signifying a desire to a deeper relationship with God.