Manila, Philippines: History was made on June 28th as Asia-Pacific Nazarene Theological Seminary (APNTS) celebrated the granting of its first PhD  degree in Holistic Child Development (HCD) to Stella G. Bokare! After 7 years of hard work and dedication Stella's labor finally came to fruition. It was a proud moment for everyone! Her husband Pastor Girish Bokare and their children flew all the way from India to show their love and support (feature image).  In spite of the challenges of being a wife and mother of two, Stella finished her doctorate degree with high standing.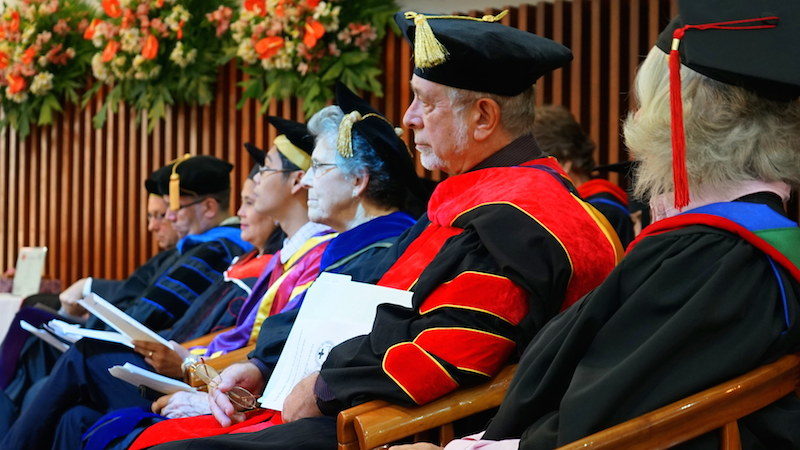 The event was attended by many and streamed live for people to watch from around the globe. Present at the ceremony were Ms. Menchit Wong, Global Child Advocacy Director for Compassion International, Dr. Theresa Lua, Asia Graduate School of Theology former dean and now Asia Theological Association secretary, Attorney Kafoa Muaror APNTS Interim president, APNTS faculty, staff, students and other guests.
In an interview with Dr. Floyd Cunningham, former APNTS President and now academic dean, he shared:
"This event was the culmination of a process that began nine years ago when Dan Balayo, former student and then coordinator of child sponsorship for Nazarene Compassionate Ministries for the Asia-Pacific Region, urged me to attend a conference in Chiang-mai, Thailand on holistic child development. God spoke to me. I felt as though I had been swept into a movement, not only of holistic child development, but a movement of God's Spirit.

With the support of the faculty, we began to shape a graduate program in HCD.  Key to the program's success was the appointment of Dr. Nativity Petallar, in 2009, as full-time professor in the program."
"This event proves that a PhD in HCD is doable and students can actually finish it!" said Dr. Nativity Petallar. "APNTS can now fly with this memory that we have commissioned a PhD into the world to bring healing and holistic nurture to children and families at risk and in crisis."
Stella encourages those who are on a similar journey, to be humble, patient and persevering.  Just keep taking things one step at a time and this will help us accomplish the goal that God has called us for.
Aside from being a wife and a mother, Dr. Stella Girish Bokare is the South Asia Coordinator for International Child Care Ministries of the Free Methodist Church. She is married to Rev. Girish Bokare. They have a son, Abishai and a daughter Ishanah. Her dissertation was on "The Impacts of HIV Related Stigma on Children Infected and Affected with HIV among the Care and Share Project of Free Methodist Church, Andheri East, in Mumbai.
Praise God for His faithfulness to Dr. Stella and her family! Please pray for her family and ministry as well as the ministry of APNTS as they continue to develop future leaders for the Church.
Congratulations Dr. Bokare!
— Story submitted by Terence Lustaña, APNTS Masters Student / WMC – AP Intern.