Myanmar, Southeast Asia Field:  We are praising God today along with Pastor Jubilee Thanga and the church in Myanmar, for the answered prayer on their behalf.
Prayer requested for pastor Jubilee Thanga
Last week prayer was requested as it was determined that Pastor Jubilee's mother was in need of a liver transplant, and the biologically best donor was Pastor Jubillee.  Plans were put in motion to travel to India where the medical procedure could be completed.
Here is Pastor Jubilee's update from India:
Dear all friends,
Thanks for all your tireless and endless prayer support! 
God is at work of answering all your prayers. We were able to admit Mom on July 10 while many nationals are waiting to be admitted at this hospital for 3 weeks to 3 months for some. 
Urgently, the head doctor, Dr. S. K. Sarin (honorable liver specialist in India and across the globe) and his team made many tests and preparation on the first day of our admission. 
On July 11, the doctor's team continued testings and study of CT results from all possible sources. At 3pm, the doctor decided to proceed with the procedure of radiation treatment. So, they use RCF needle to remove the tumor from the liver.  During the procedure they discovered clearly that many parts of the liver were still healthy and that the cancer is just the initial stage.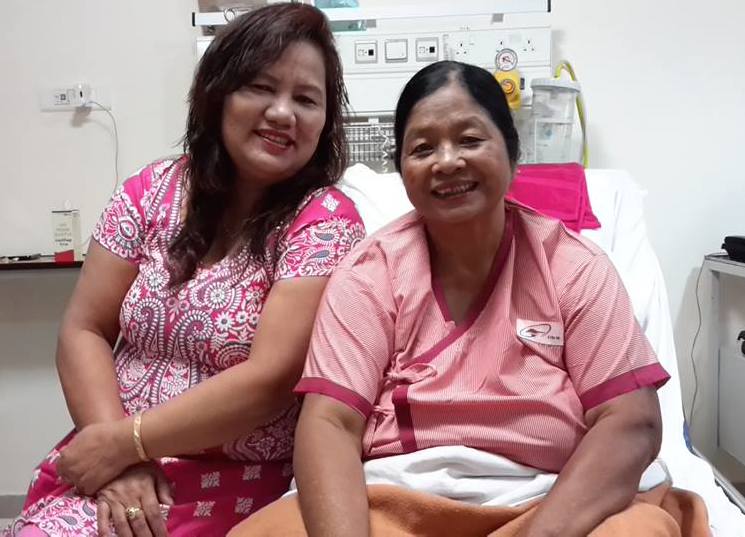 On July 12, we had a non-stop time of thanksgiving prayer and meditation on the Word of God at a private room in the hospital. We also shared our joy with nurses, doctors, and our neighboring patients as this is the risen day of our Lord Jesus.
It is very clear that at this point, mom does not need a liver transplant, and that I do not need to donate a partial part of my liver. Mom will continue to take radiation treatments and medicine. 
God is hearing all our prayers, and He is willing to make a Miracle in our daily life.

Our fear, burden and anxiety is rolled away by the presence of God with us!
———–
Thank you all for your commitment to continued prayer for the Thanga family!  God Answers Prayer!