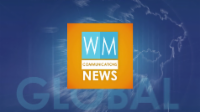 You read it right: WMC News is not only available in ENGLISH,
We now have a KOREAN version as well!
Joining the WMC News Team is our Korean correspondent, Mireu Kim!
Find more information about Mireu Kim here. 
Here are the headlines for this last week's news:
Hundreds of Families in Albania Learn About Jesus
Korea District Holds Retreat for Pastor's Kids
Clean Water Now Accessible in Chiapas, Mexico
'Chosen to Change' in Africa NYC!
You will see even more incredible changes in the coming weeks as we produce our first News Video in Spanish as well!  We are working on creating a uniform look and graphics package that will be in every language we produce.
Having the WMC Asia-Pacific Office on the campus of Asia-Pacific Nazarene Theological Seminary, gives us the opportunity to work with students of many languages from across the globe.  This is a short video that the team made a couple of years ago using a few of the languages represented on the campus. This gives you a feel for the rich culture and languages assets that are available.
Our goal is to inform the global church about what God is doing across the world and to call Nazarenes of every language to pray!  We are excited to increase the languages offered and pray that as we share these videos,  they will be a blessing to you and your church and will help keep missions a focus in your church.