Kingdom of Tonga, South Pacific:  For many years, Mango Tree Respite Center (MTRC) has provided care, rehabilitation and education to the physically challenged and their families. More than that, MTRC has also given emotional and spiritual encouragement that have tremendously made significant changes in the lives of whom they have touched.
Maneo is a living testimony of this.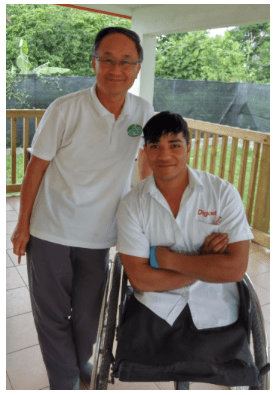 Maneo is a double amputee. He lost his legs from a tragic accident at a factory three years ago, leaving him completely frustrated. Despite this, he refused to lose to hopelessness- he thought of ways to be productive and focused on his strengths and abilities. At the age of 19 he began taking computer classes at MTRC. Mango Tree Centre provided him with a new sense of direction, and let God take control of his life.
MTRC Administrator In-Kwon Kim happily announced that Maneo is now employed at Digicel Tonga, one of the leading network providers in the country. Praise God for the opportunity He has given Maneo!
God is truly good! Let us continuously pray for Maneo, that he will persist to hold on to the faith he found in Jesus. Like MTRC, may he also be a beacon of hope to those who are like him.
-Submitted by: In-Kwon Kim