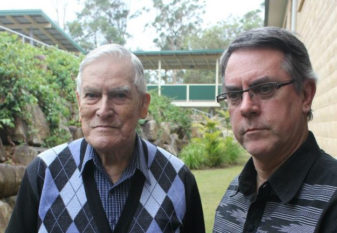 Veteran Australian retired pastor Rev. R. George Allder, who was a pioneer member of the Church of the Nazarene in Australia, passed away on August 24, 2020, at the age of 92 in Brisbane, Queensland. Rev. Allder, who was a member of the Church of the Nazarene for almost 70 years, and who pastored four churches in 3 Australian states since the mid-1960s until his retirement, was the father of Asia-Pacific Regional Education Coordinator and Nazarene Theological College Australia Principal Emeritus Rev. Dr. Bruce G. Allder, and the grandfather of the late Belinda J. Allder, who was a Nazarene missionary to Southeast Asia.
On 24 August 2020, George's pastor, Rev. Emman T. Chapman, co-Lead Pastor of the Place of Peace church at Inala, wrote: "George has brought God's transformational love into the lives of too many to count. He gave his life to serving God, the church, and people. We know he has heard the words of our Lord and Savior, 'Well done, good and faithful servant.'"
Born Roy George Charles Allder in Adelaide, South Australia on December 29, 1927, the fifth and youngest child of Edgar George and Ethel Grace Allder. In 1950 George married Florence Evans. Together they had three children: Ruth, Bruce, Heather, and Robert.
Attending initially the local Methodist church, they later attended the Adelaide Church of the Nazarene. In the 1960s George accepted the invitation of then-District Superintendent Rev. A.A.E. Berg to pastor the Gawler Church of the Nazarene, about 40 kilometers (25 miles) north of Adelaide.
After several years of pursuing the home course of study for ministers and receiving a district minister's license, in early 1972 George and Flo and their family moved to Sydney. George pastored the Birrong Church of the Nazarene in the suburbs of Sydney and studied at Nazarene Bible College (then at Thornleigh) until his graduation in September 1973. In March 1975 George was ordained an elder in the Church of the Nazarene on the original Australia District by General Superintendent Dr. V.H. Lewis at Margate, Queensland.
Get ATR Newsletter directly in Your Inbox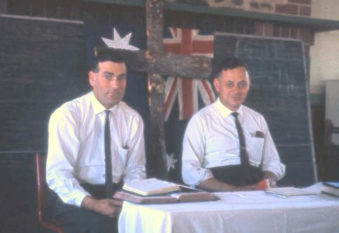 In 1978 George & Flo became pastor at our Inala (now Place of Peace) Church of the Nazarene in the suburbs of Brisbane, Queensland. During that pastorate, the Sunday School and youth work grew, and their elder son, Bruce, became an associate pastor while he studied at Nazarene Theological College in Thornlands. After several years, George accepted the call to pastor the Bundaberg church in central Queensland and served there until their retirement. In 1992 they were honored by the Australia Northern Pacific District with a Distinguished Service Award in recognition of their service to the Lord through the Church of the Nazarene. In December 2018 they were also honored by the Inala church during its 50th Anniversary service. During their retirement, they lived in Browns Plains and were active members of the Inala (later Place of Peace) church. In recent years George & Flo resided at the Esida Aged Care at Mount Gravatt East in Brisbane.
George is survived by Flo, his wife of 70 years; 3 of their children: NTC Principal Emeritus and ANZ Field Strategy Coordinator Rev. Dr. Bruce G. Allder, who currently serves as the Regional Educational Coordinator for the Asia-Pacific Region, Senior Lecturer in Liturgy, Pastoral Theology and Practice & Director of the CALD Program at our NTC, and as the interim Pastor of Toowoomba Church of the Nazarene; Heather Huch; and Robert Allder; 9 grandchildren; 6 great-grandchildren; and 5 great-great-grandchildren. George is preceded by his daughter, Ruth Marion Allder, who went to be with the Lord in 1992; and granddaughter, Belinda Allder, former Nazarene missionary to Southeast Asia, who went to be with the Lord in February 2012.
The Allder family has asked that in lieu of flowers, a donation be made to the BJ Foundation for Missions. For those outside Australia, here is the banking information:
Bank name: National Australia Bank
SWIFT Code: NATAAU3303M
BSB: 084-606
Account #: 65-540-7717
Name of the Account: Church of the Nazarene Australia
Specify: BJ Foundation
Address: 40 Woodlands Drive, Thornlands QLD 4164
If name is required: Bruce George Allder