Western Australia, ANZ Field: One of our missionaries is requesting prayer for an upcoming Easter Conference in Australia. He is scheduled to go to the Blackstone Aboriginal Community this April 1-5, to hold a conference, where he will share about the message of Christ and of Christian holiness amongst the Indigenous people.
Blackstone is an Aboriginal Community located in the middle of the desert in Western Australia.   Due to the polytheistic beliefs, the spiritual battle is strong, and much prayer is requested.
Kim Jong-Il, a Nazarene missionary, has been working with the Aborigines of Warnan and Blackstone for four years. His mission is to share the love of Christ and establish churches among the communities in the next ten years.
Jong-Il has also met with a mission team who is working with the Aboriginal tribal leaders. This year, they plan to start the Blackstone Community Church.
In the scheduled conference, Jong-Il plans to show the JESUS Film to the youth and children, conduct Bible studies for adults, and deploy a special tool to help with learning the Word of God.
Since this is a community with a strong oral focus, one of the strategies for delivering the Gospel message will be the use of the Papyrus Audio Book Player.  We are praising God for partners in ministry who answered the call last month to purchase these units.  This is just one area where they will be put to use.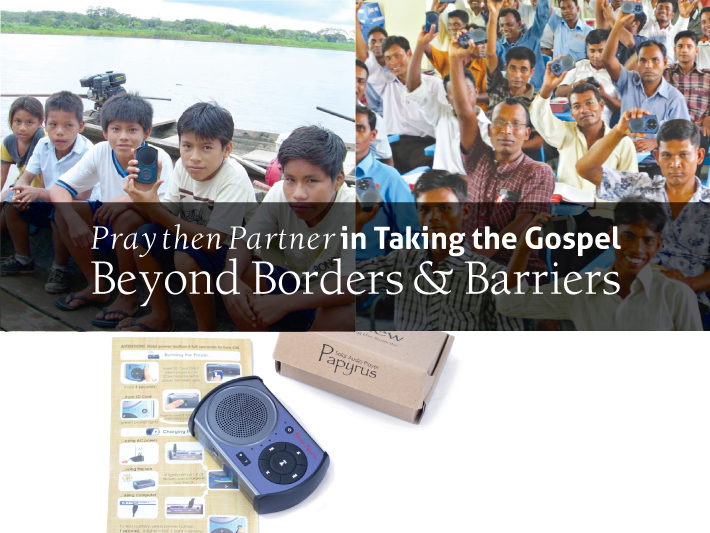 PRAY…THEN PARTNER IN TAKING THE GOSPEL BEYOND BORDERS AND BARRIERS! Papyrus Audio Book Players needed on the Asia-Pacific Region.
Please join us in prayer for the success of the conference. May the Holy Spirit guide Jong-Il and give him wisdom to teach and guide the people of Blackstone towards spiritual clarity and transformation.
May the Indigenous People welcome Jesus into their hearts, and continue to seek Him in everything that they do.
 Submitted: Kim Jong-Il