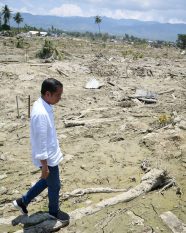 Palu, Indonesia. On September 28, the people of Palu, Indonesia were beginning their weekend on the beach preparing for a festival. No one expected the 7.5 earthquake which triggered a tsunami that has killed over a thousand people.
Hundreds of families are still searching for their loved ones, and thousands have lost their homes. The survivors are being put up in tents awaiting provisions such as food and medicine. The local Nazarene congregations are awaiting news from missing family members.
Update:
Nazarene Disaster Response has been lending a helping a hand to the affected. Several weeks after the earthquake, they are still giving assistance. This week, Nazarene Compassionate Ministries provided health supplies and education for children. Children were given nail cuts, taught how to properly wash their hands, played games and sports, and were able to be mentored and eat healthy food.
Please continue to pray for those who are affected by this natural disaster along with the Church's response.